The latest project that I have been obsessed with making are these DIY Glass Cutting Boards! These are a quick and easy project using Dollar Tree Cutting Boards.
It is easy to personalize cutting boards to give out as gifts or use in your own kitchen.
When you have a Cricut Machine, you are always looking for things to customize. It is so easy to take a plain item and spruce it up with some vinyl.
For those that don't know what a Cricut machine is, check out: What Is A Cricut Machine and What Does a Cricut Do. A Cricut is the ultimate crafting tool.
I added some funny phrases to them so I could give them out as personalized gifts.
So today's post is going to show you how to take plain glass cutting boards and turn them into personalized cutting boards. These will be great to give out as Christmas Gifts, Housewarming gifts, or wedding gifts.
DIY GLASS CUTTING BOARDS SUPPLIES
HOW TO MAKE PERSONALIZED CUTTING BOARDS
Once you have all your supplies, you will need to head over to Cricut Design Space to design your project.
If you don't want to design your own, you can look in Cricut Design Space for a file or even head over to Etsy to find a SVG file.
I made most of these designs myself. I was going for some funny sayings such as "Rock out with your Crock Out", "Chop It Like It's Hot" and "Who Cut the Cheese", "What the fork is for dinner" and a few others.
They are so fun to make.
You can also personalize the cutting boards by adding last name.
Once you have designed your project, you will want to use Permanent Vinyl, such as Oracle 651, to cut the design with your Cricut.
Don't forget to mirror the image, as you will attach the design to the bottom of the cutting board.
After the design is cut and weeded, you will want to use transfer tape to transfer the project to the bottom of your cutting board. Use firm pressure to make sure there are no bubbles in the decal.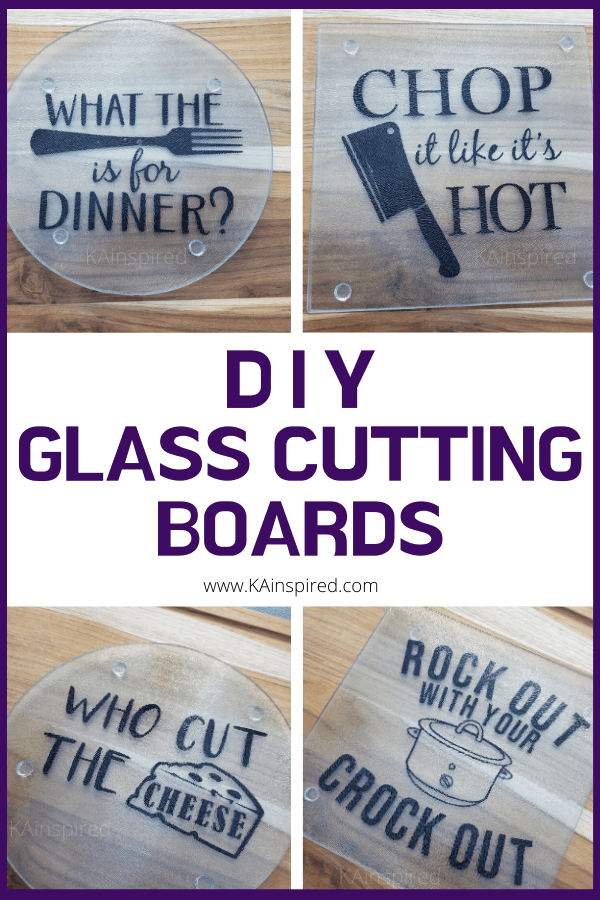 DIY GLASS CUTTING BOARDS
I love how these DIY Glass Cutting Boards Came out.
They are the perfect housewarming gifts and Christmas Gifts. I think the funnier the phrase, the better.
For those who don't have a sense of humor, you can just add anything you want. Such as a last name or "home sweet home"
If you do give them out as gifts, make sure you tell them to hand wash only.
Leave a comment below and let me know what your favorite phrases would be for these DIY Cutting Boards.
DIY GLASS CUTTING BOARDS