I'm so excited to share our kitchen renovation! We were able to update our kitchen on a budget and the results are incredible. I'm still amazed with the kitchen remodel before and after pictures.
Ever since we bought this house 3 years, we've always hated the look of the kitchen. The kitchen was dated but it was functional. Since it was a functional space, a kitchen remodel never made it to the top of the project list- until this year.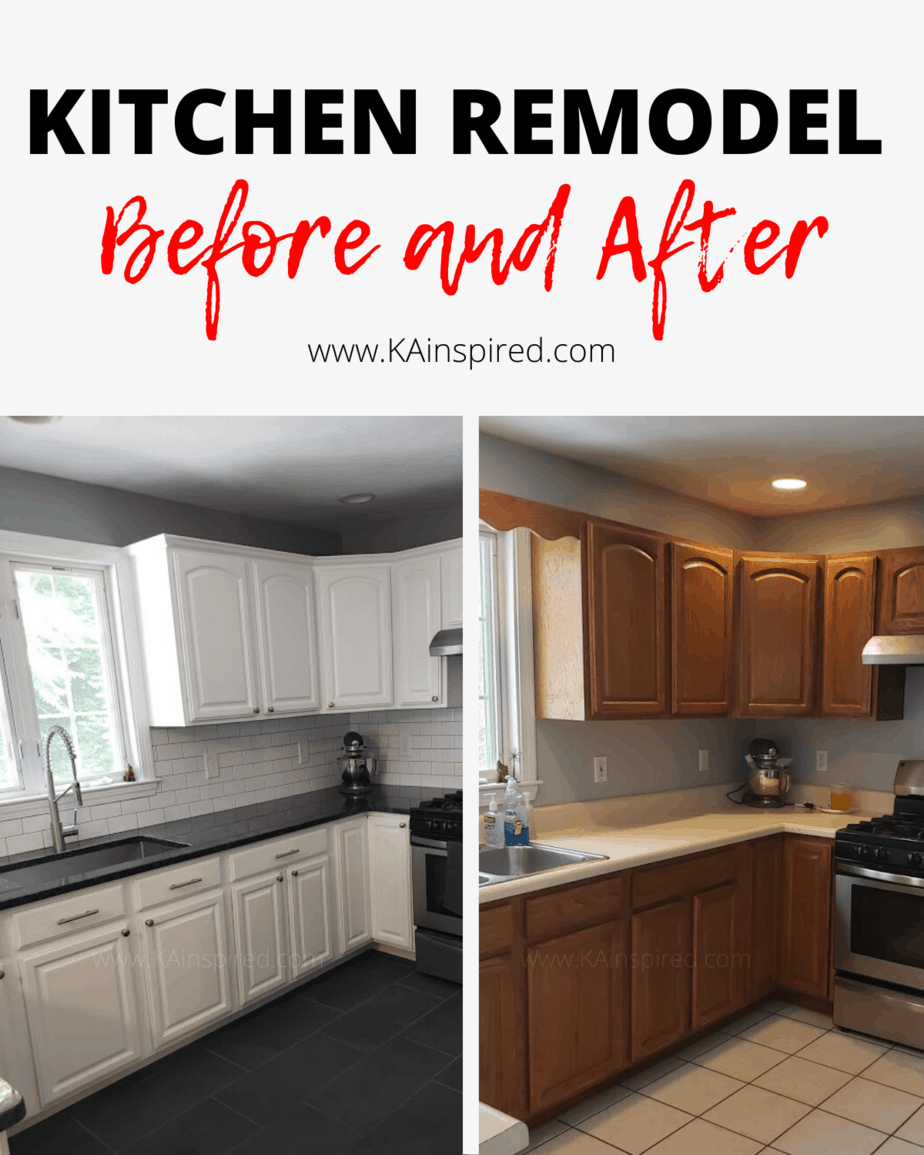 We knew kitchen remodels can get expensive and we wanted to make sure we kept the kitchen renovation on a budget. So we decided to wait on the kitchen renovation until we finished other projects that needed to be done first, such as our basement stairs.
This year we decided it was time to finally upgraded the kitchen into a beautiful and fresh new look.
Before the kitchen remodel
When we first bought this home, the kitchen had ugly green walls. Here's what the kitchen looked like when we first bought the house.
As soon as we closed on the house, the first room we painted was the kitchen. We chose a light gray but after we painted it, the color looked like a light blue. Our painting skills and color knowledge has definitely come a long way now that we have painted every room in our house.
So learn from us and always check the undertones in the paint color you select. And always do a test on your walls to see how the color looks with your lighting
Here is a picture of the kitchen before we started the kitchen remodel.
As you can see in the kitchen before pictures, the kitchen is a very functional space and it only needed a new face. There is a ton of counter space and cabinets so there was no need to change the kitchen layout.
After THE KITCHEN REMODEL
Our kitchen has truly transformed into a beautiful, updated space. All we did was give it a new face and it now feels like a brand new room.
BUDGET FRIENDLY Kitchen Remodel
If you don't have the budget for a major kitchen renovation, there are a few things you can do to keep the costs down.
You could split up the major kitchen renovation into smaller projects instead of doing everything at once.

Shop around to find the best prices. Don't forget to check Amazon. We were able to find some great deals on there for our kitchen renovation.

If your existing cabinets are in decent shape, consider doing a DIY Cabinet upgrade. You can paint them and add some hardware. This will be a much cheaper option than replacing all of your cabinets.

We decided to paint our cabinets and add some kitchen cabinet hardware. If you are installing the hardware yourself, I highly recommend that you use a Cabinet Hardware mounting kit. This will help you to install your cabinet hardware flawlessly.
Another way to keep your kitchen renovation budget friendly is by keeping your existing appliances. Our existing appliances were in great shape, except for the refrigerator. So right before we upgraded the kitchen, we did have to purchase a new refrigerator since our old one was acting up.

If you are in the market for a new refrigerator, I highly recommend that you check out Samsung Refrigerators. We love ours and the multiple drawers.
THE KITCHEN REMODEL
Our Kitchen remodel consisted of many updates to transform this space into a fresh new look. We shopped around so we could keep the costs as low as possible.
Here you can see our kitchen remodel before and after pictures.
We removed the existing floor and added a new slate tile. We were able to find ours on clearance at a local flooring store, but Home Depot does offer a similar cost effective Slate Floor Tile.
We painted our Oak Kitchen Cabinets Benjamin Moore Chantilly Lace, which is a true, crisp white. We also added Kitchen Cabinet Handles and pulls that we found on Amazon.

Our existing counter tops were horrendous so we replaced them with Steel Gray Granite.

Then we added a white subway tile back splash with a dark grout.
We also replaced our sink with a stainless steel sink and a pull down Kitchen Faucet. We love how deep this sink is.
We also painted the walls since we didn't love the previous wall color. We chose Benjamin Moore Storm (AF 700).
There you have it, this was our kitchen remodel before and after! We are so thrilled with how our kitchen renovation turned out. We feel like we have a brand new kitchen.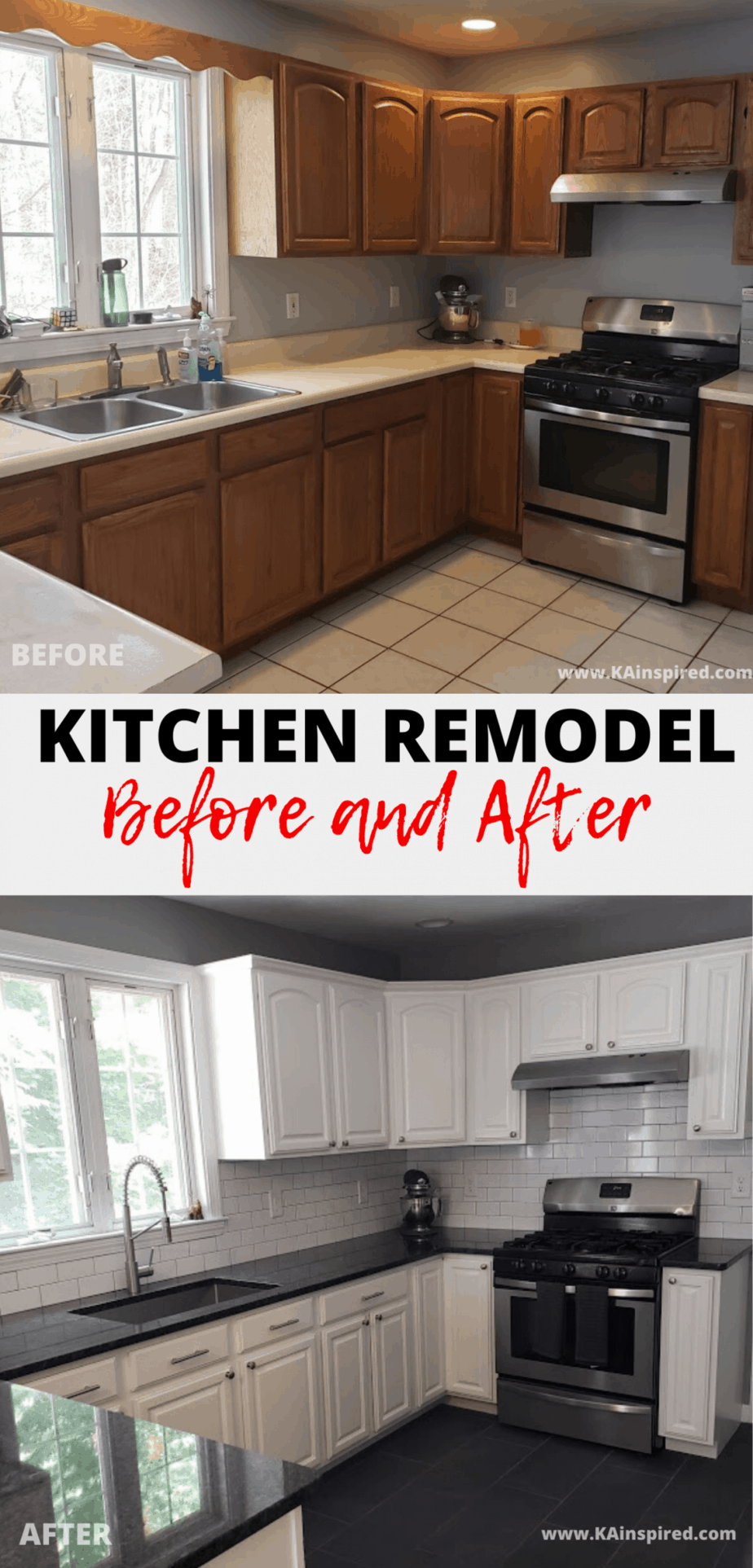 Kitchen Remodel Before and After