Learn how to clean up images in Cricut Design Space so they'll cut with crisp, clean lines every single time. No more jagged Cricut.
[Updated August 2023]
If you have tried to upload an image to Cricut Design Space, you may have noticed that sometimes the images are not clean.
The lines are jagged and splotchy. Or sometimes there is something on the image that you don't want.
There have been so many times when I uploaded the picture, it turned out messy.
The lines were not crisp and clean so I knew the project would not cut right.
So I used to scratch the project and find another image or another project.
I know I am not alone with this, as I see many people online asking for Cricut help with cleaning up images with jagged edges that can be used with their Cricut.
Now I have found an EASY WAY to clean those MESSY, jagged lines!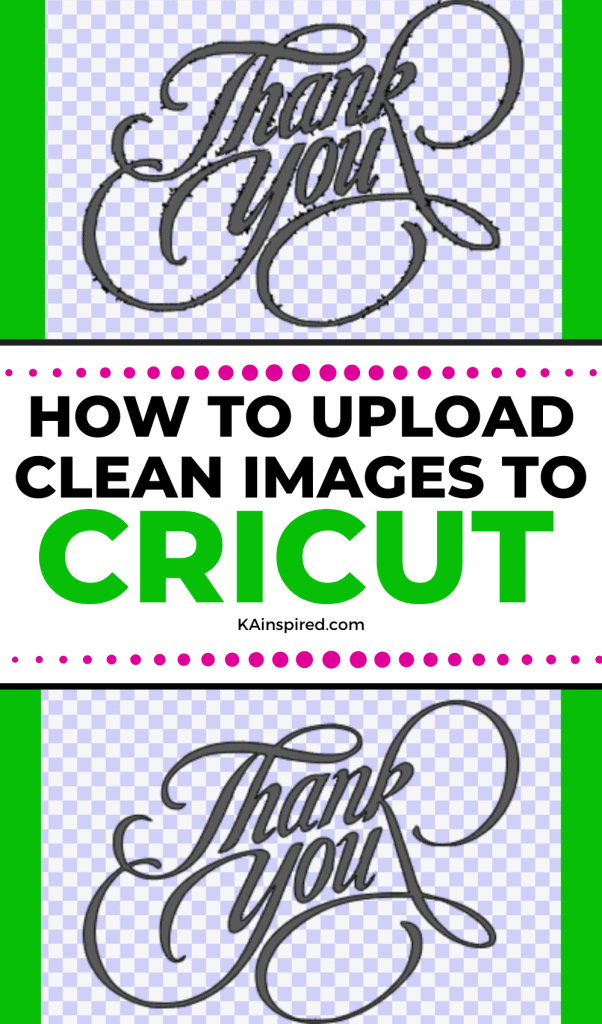 JAGGED LINES ON AN IMAGE UPLOADED TO CRICUT DESIGN SPACE
Sometimes when I upload an image to design space, all I have to do is select the image type, erase the background, and the image looks nice and crisp.
It cuts fine and there are no issues.
Other times, I get jagged lines on an image uploaded to Cricut Design Space like the image below.
The cut image is on the left and the lines are all jagged. This would never cut right with Cricut.
It can be so frustrating to upload a picture and have it turn out blurry and not clean lines.
This can be more frustrating tp happen to SVG you purchase because you don't want to spend time creating your own files.
So I found a quick and easy way to clean up images uploaded to Cricut Design Space so your designs can be cut with crisp, clean lines every single time.
CLEAN UP IMAGES IN CRICUT DESIGN SPACE
Here is a quick and easy way to clean up images that are splotchy when uploading to Cricut Design Space.
Upload your Image to Cricut Design Space and Select the image type as Complex. Then click Continue.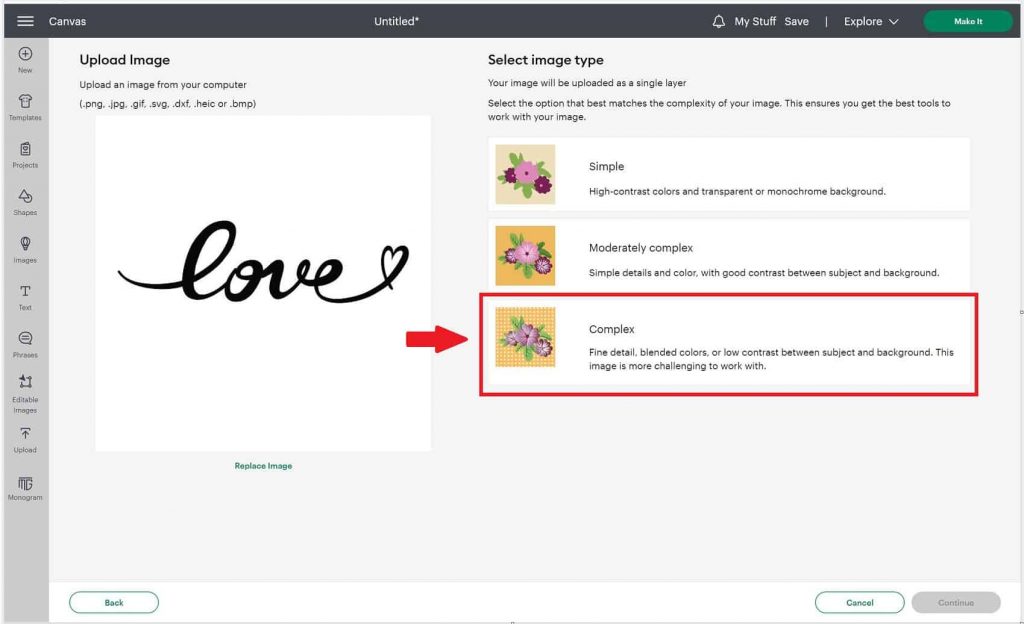 2. Before you start cleaning up the image, click on "More Options". Change the Reduce Colors to 2 and Color Tolerance to 150. Click enter.
3. Now you will clean up the background. Select the wand under "Background Remover" to remove or erase the background.
You can use the eraser to remove anything else that you don't want in the cut.
Then click Apply & Continue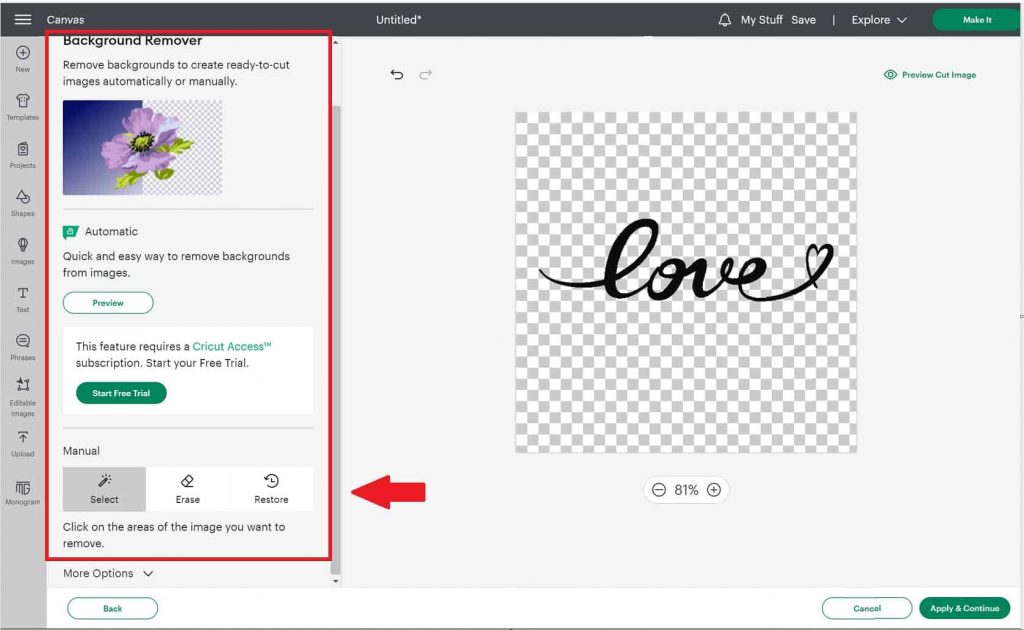 4. Next, click on the cut image and then give the image a name and tag (optional). Then click upload.
The file is added to your recent uploads and then you can add it to your Cricut Canvas.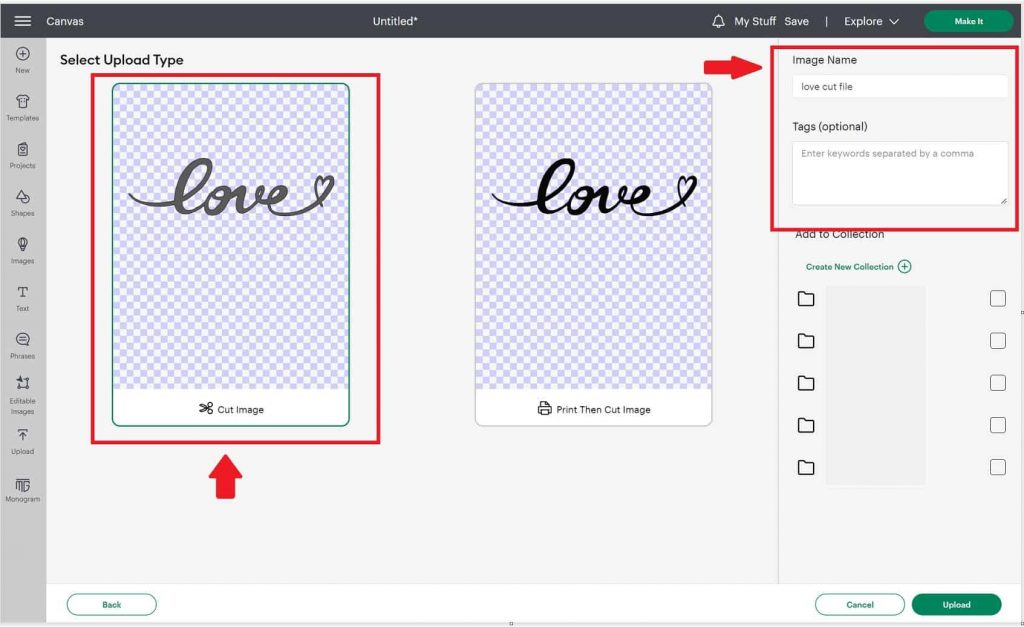 UPLOAD IMAGES TO CRICUT DESIGN SPACE
If you follow this quick and easy guide on how to easily clean the lines on your Cricut files, you'll no longer have to worry about cutting designs with jagged edges.
Now every image you upload any file to Cricut, you can make sure it has crisp, clean lines so you can have perfect Cricut cuts.
CLEAN UP IMAGES IN CRICUT