Having a deck is the ideal spot for entertaining, cooking and relaxing outdoors. With a few small updates, you can have the perfect outdoor oasis. Here are some budget friendly deck decorating ideas to update your outdoor living space so you can spend more time outdoors.
We love to be outdoors because we have a huge deck right off the kitchen with stairs leading to our backyard.
For the first 2 years living in this house, all we had on the deck was a well loved patio set that was re-homed to us when we moved in and a grill.
It was time to spruce up our outdoor deck and make it a functional, outdoor living space.
We didn't want to spend a fortune on the deck since we just finished upgrading our kitchen. So we decided to upgrade our back deck on a budget.
With these simple deck decorating ideas, we were able to transform our deck into our own personal oasis.
BACKYARD DECK DECORATING IDEAS
We have a large deck, but these deck decorating ideas can be used for any size deck or patio.
Since our deck was so big, we made half the deck a relaxing outdoor seating area and the other half with a dining area.
Outdoor sectional sofa are usually very expensive but we were able to find a budget friendly outdoor couch.
Once the sectional couch was put together, the space looked a little empty. So we decided to add some more outdoor armless chairs to make a larger seating area.
The sectional came with a couple of red pillows but who doesn't love more pillows. So we
So I found some outdoor pillow inserts and vibrant burgundy pattern outdoor throw pillow cases. These pillows cases come in a variety of colors in case you are on the hunt for some outdoor throw pillows.
We also added an outdoor rug, flower pots, and flowers.
These backyard deck decorating ideas were all done on a budget.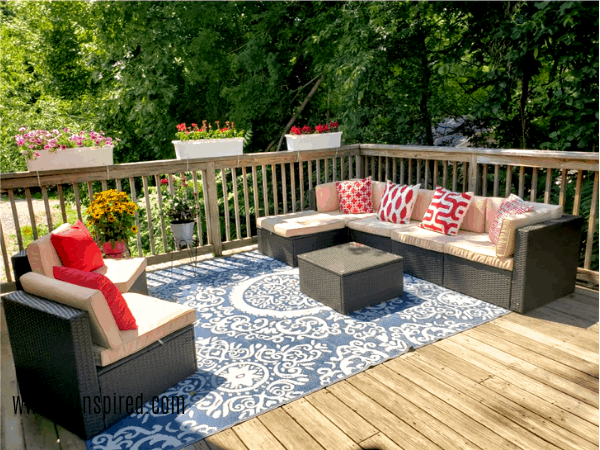 DECK DECORATING IDEAS
We know the deck needs more so we'll continue to bargain hunt to find budget friendly outdoor decor.
Here are some other BUDGET FRIENDLY WAYS TO UPDATE YOUR OUTDOOR SPACE
SIMPLE BACKYARD DECK DECORATING IDEAS