If you have been searching for the best cursive fonts in Canva Pro, look no further! I will share with you my favorite cursive fonts available with Canvo Pro Plan.
Canva offers so many elements, fonts, designs, templates, and more in their library, that it can be daunting to search through everything to pick the perfect item for your digital content.
So I'll break it down for you, and tell you which cursive fonts to use, so you can create content that will stand out.
And if you don't have Canva Pro, that's ok.
Canva free version offers a TON of options. So you really don't need Canva Pro until you have mastered everything the Canva Free Plan has to offer.
And for those who have never used Canva to create digital content, I highly recommend that you start with the free version of Canva.
If you only have the Canva Free version, please check out my post on the best Canva Script fonts for the Canva Free version.
Canva free plan offers so many things that you really don't need Canvo Pro Plan until you have mastered everything the free version offers.
When you are ready to take your digital content to the next level, here's a 30 day free trial of Canva Pro.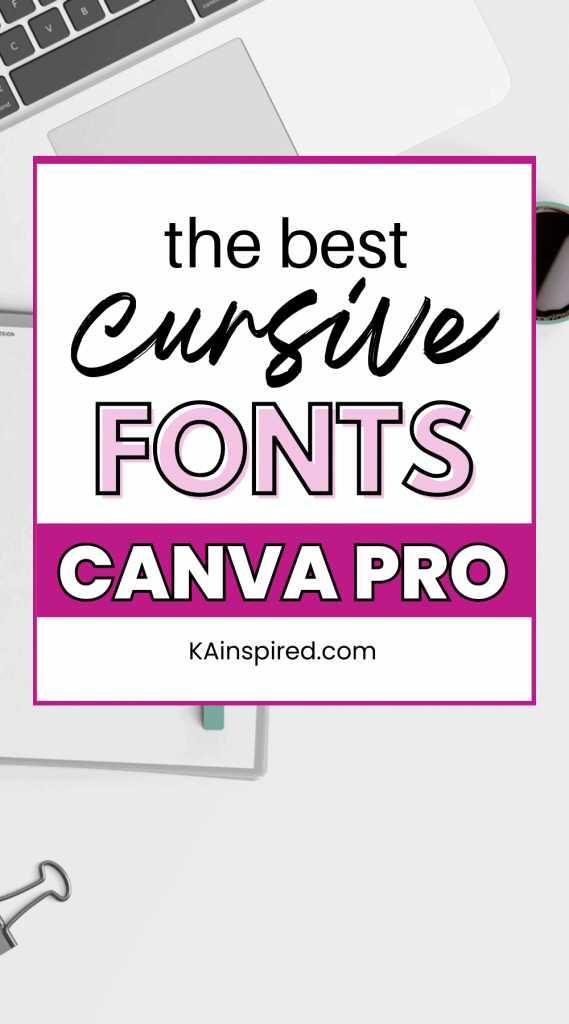 BEST CURSIVE FONTS IN CANVA PRO
Please don't be intimidated by this list of the best cursive fonts for Canva Pro.
I couldn't decide on my absolutely favorite cursive fonts in Canvo Pro Plan, so I'm going to share 34 of the best cursive fonts in Canva Pro
Benedict
Blacktear
Buffalo
Beauty Salon Script
Bundt Cake Bold
Campground
City Lights
Emitha
Faithful
Grimpt Brush
Holiday Romance
Humble Hearts
Indian
Inspirations
Intro Script
Jenthill
Joshico
Just Believe
Limestone
Madelyn
Magenta
Majestry
Marvey
Sansterdam Script
Quick Silver
Raylybe
Rumba
Scandilover Script
Seashore
Sensa Brush
Sweet Belly Script
Stoic
The Artist Script
The Something Script
BEST CURSIVE FONTS IN CANVA PRO