If you are creating all your designs in Canva, you may be wondering what are the best Free Canva Cursive Fonts to use.
Just know you are not alone! Canva offers so many different Canva Cursive Script fonts that it might be tough to pick one.
So I am going to share with you all my favorite free cursive fonts in Canva!
That's right, you don't need Canva Pro! All the Canva Cursive fonts I list below are available with the Free Canva Plan.
For those that do have Canva Pro, I also created a list of the Best Canva Pro Cursive Fonts.
So don't forget to save this list by pinning it to your favorite Pinterest board and bookmarking this page in Google Chrome.
Make it easy for yourself so you can easily reference this post next time you are designing content in Canva and are looking for fun new cursive fonts to try.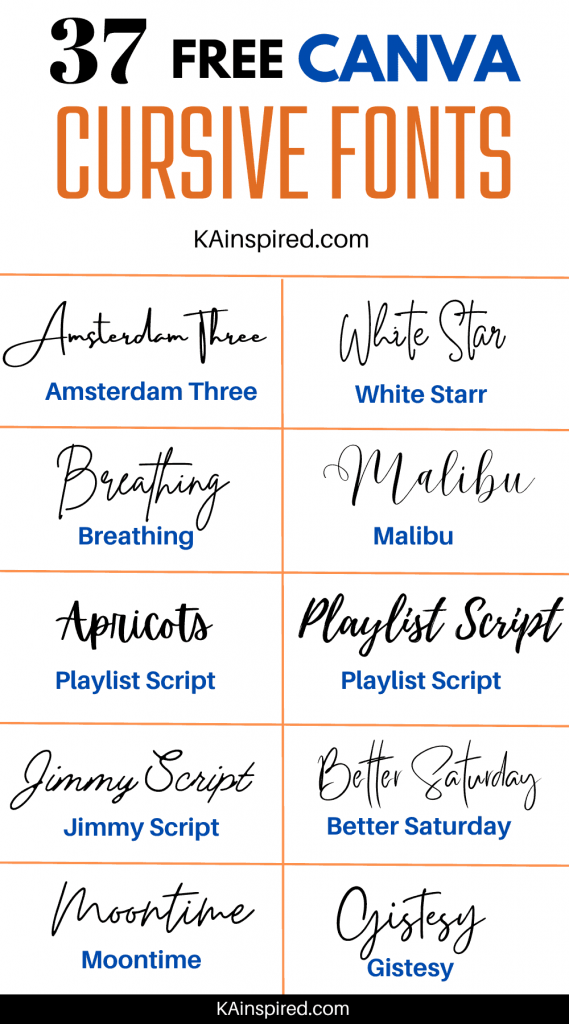 Before we get started, let's go over some basics.
WHAT IS A CURSIVE FONT?
A cursive font is something that is written where the majority of the letters in each word are connected to each other.
WHAT IS CANVA?
Canva is a free online graphic design tool that many small businesses and digital entrepreneurs use to create digital content such as social media posts, presentations, posters, videos, logos, and more.
Canva offers two different plans, a free version: Canva Free, and a paid version: Canva Pro.
Canva Free comes with so many different elements to pick from, that you really don't need to upgrade to Canva Pro.
If you are new to Canva, I highly recommend that you start with the free plan. It has everything you need with tons of options
Once you get used to creating content in Canva and checked out everything the free version has to offer, then you can explore Canva Pro.
Canva Pro does come with even more elements and other special features that will help you to take your digital designs to the next level.
Try Canva Pro free for 30 Days
You can access many of these cursive fonts through the free version of Canva, some of these fonts are only available via the paid version of the Canvo Pro Plan.
Don't get me wrong, I love the free Canva Plan but sometimes I want to stand out and take my designs to the next level. So I use the extras that comes with Canvo Pro Plan
If you are not sure if you need Canvo Pro Plan, here is a link to get a free month of Canva Pro to you can test it out.
That's right, you can try Canva Pro free for 30 days!
So you can decide if you need all the extras that are available with the paid Canva Plan
BEST CANVA CURSIVE FONTSI
Keep in mind, the list below only includes the best FREE cursive fonts that I have personally used.
There are so many different Canva fonts that I love to use regularly. So I'm only going to share my favorite go-to Free Canva Cursive Fonts.
Canva is constantly updating its fonts. So I'm always on the lookout for the best Canva Free fonts!
If you think I'm missing your favorite Free Canva cursive font, leave a comment and let me know. I would love to check it out.
FREE Cursive Fonts in Canva
Here is a list of the best free cursive fonts to use in Canva!
Alex Brush
Anastasia Script
Amsterdam One
Amsterdam Three
Apricots
Better Saturday
Breathing
Bright Sunshine
Brittany
Daydream
Feeling Passionate
Gistesy
Halimum
Holiday
Homemade Apple
Howell
JA Jayagiri Script
Jimmy Script
Jonathan
Le Jour Script
Lemon Tuesday
Lovely May Script
Malibu
Mistrully
Nickainley
Moontime
Pinyon Script
Playlist Script
Sacramento
Satisfy
The Youngest Script
Themysion
Twister
Vintage Goods
Virtual
White Star
Yellowtail
BEST CANVA CURSIVE FONTS