Are you looking for creative ways to organize Cricut Vinyl?
Let's face it, crafting supplies can quickly take over your craft space if you don't have great storage solutions.
I'm going to share with you some quick and simple vinyl roll storage ideas to help you organize Cricut vinyl.
These storage solutions for vinyl rolls will help you to keep a nicely organized craft room.
If you can't find your crafting supplies or crafting tools, you need to organize your Crafting Space.
There is no need to be spending so much time looking for your crafting supplies., you should spend the time designing and creating crafts.
Lucky for you, I will share a few different ways you can organize Cricut Vinyl. These craft supplies storage ideas can work with just about any space or size you have for crafting.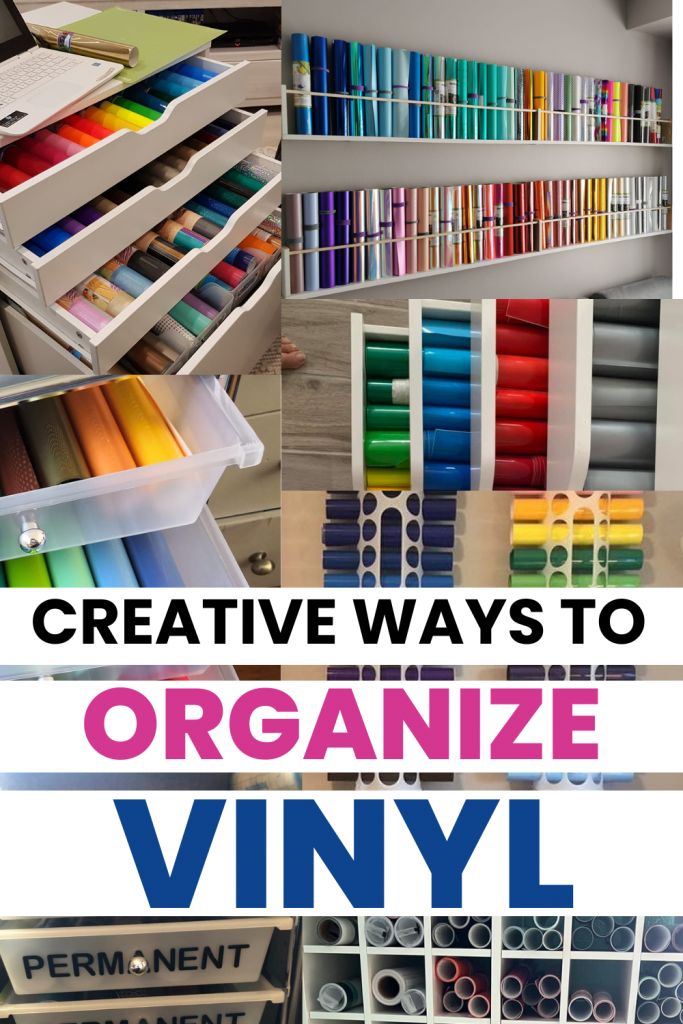 CREATIVE WAYS TO ORGANIZE CRICUT VINYL
I've gathered several different creative storage ideas for Cricut Vinyl. Some will require some DIY abilities, and some will require just a couple of supplies.
You may even find you have some of these items already on hand.
No matter what your DIY ability or budget is, I'm confident you'll find the perfect solution to organize Cricut Vinyl.
VINYL WALL SHELF WITH DOWELS
Take a shelf or bookcase and add a dowel to easily store all your vinyl rolls standing up.
You can then organize your Cricut Vinyl Rolls by color to the type of vinyl so you can easily see all the different types of Vinyl you have.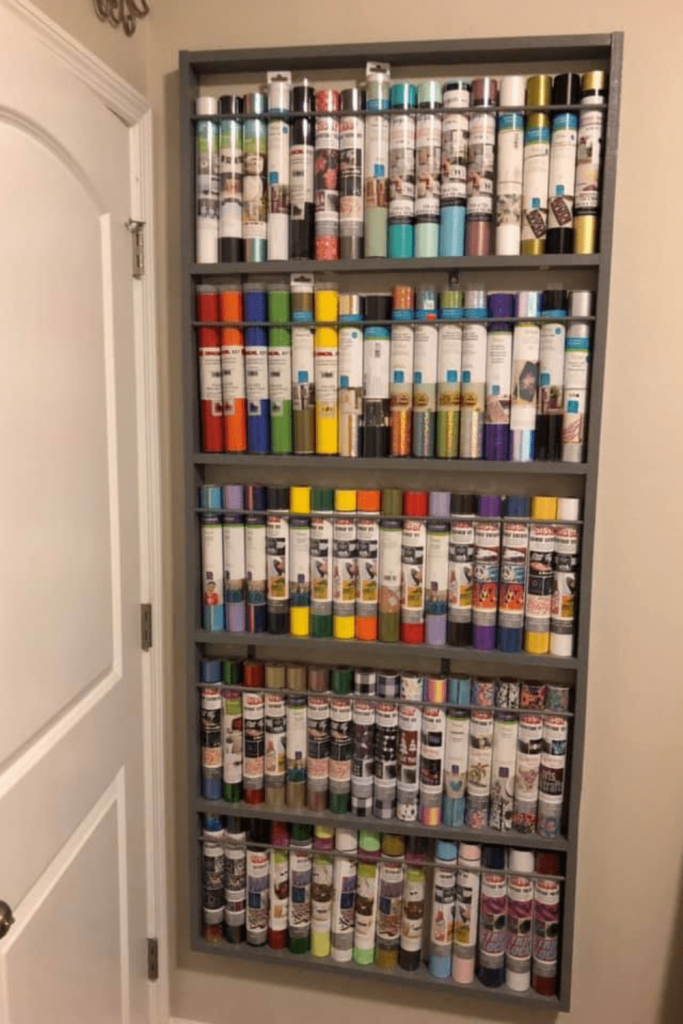 DOLLAR TREE DISH RACK VINYL STORAGE
If you are on a strict budget, this is the perfect solution to organize Cricut Vinyl.
All you need to do is head to your local dollar store and pick up some dollar tree dish racks. They can easily store all your vinyl rolls.
WINE RACK HOLDER VINYL STORAGE
If you have an old wine rack holder lying around, you can repurpose it as a Vinyl Holder.'
And if you don't have one and you are on a budget, check out your local thrift stores or Facebook marketplace.
If you are not on a budget, you can buy a brand one. They are perfect for holding all your rolls of craft vinyl.
DRAWER CART VINYL STORAGE
You can get so many uses out of using a drawer cart to store Cricut Vinyl.
A drawer cart will have several drawers, so depending on how much vinyl you have, you can use the other drawers to store other craft items such as Cricut Tools
It can also store your Cricut on top of the drawer cart. A Drawer Cart can be the perfect Cricut Crafting Workstation.
My two favorite drawer carts are: Rolling Storage Cart and IKEA Alex Cart
IKEA SHOPPING BAGS DISPENSERS
Grab yourself a Grocery bag dispenser to organize Cricut Vinyl.
Attach it to your wall. It can easily hold up to 10 rolls of vinyl.
Since it can attach to the wall, it is an easy craft storage room hack.
STORAGE BINS TO ORGANIZE VINYL
When I was figuring out how I wanted to store my vinyl rolls in the craft room, I kept them in storage bins.
Storage bins were a perfect temporary solution for me to organize Cricut vinyl, but they can be a permanent storage solution for you.
Storage bins are airtight. Easy to label and easy to stack on top of each other.
I highly recommend storage bins to store craft vinyl if your craft space is in the basement. Some basements can be wet or have moisture in the air, so air-tight containers are the perfect craft storage solutions.
CREATIVE WAYS TO ORGANIZE CRICUT VINYL
..