You are going to love this DIY Farmhouse Dollar Tree Stacked Trays. They are incredibly easy to make and an easy way to add farmhouse decor to your home.
This Dollar Store Farmhouse craft looks high end that people won't realize how cheap they are to make.
And when I say cheap, it cost me $1 to make because I had all the other supplies on hand.
WANT MORE DIY DOLLAR STORES CRAFTS?
Check out how to make your own Three Tiered Trays and DIY GLASS CUTTING BOARDS
HOW TO MAKE DOLLAR TREE 2 TIER STACKED TRAYS
To make your own Dollar Tree Stacked Tiered Trays, you only need a couple of things from your local Dollar Store. And you probably have the rest of the items on hand.
SUPPLIES TO MAKE A TWO TIERED TRAYS
3 Black Hangers
Foam board
E6000 Glue or a hot glue gun
Brush
STEP 1: Paint the burner covers with Chalk Paint Linen White. Once dried, lightly dry brush the edges with Chalk Paint Charcoal to give the trays a rustic farmhouse look.
STEP 2: Cut the Hangers Edge to 4″ with an X-Acto Knife to make the legs for the tiered trays.
If you don't have black hangers, you'll want to paint your hangers black.
TIP: After you put a slice into the hanger, they will easily snap so you don't have to cut it all the way through.
STEP 3: Cut the foam poster board into 4″ x 1″ pieces. Then push the hanger ends into the foam to make an indent in the foam so you know where to glue the legs to the foam board to make the leg supports.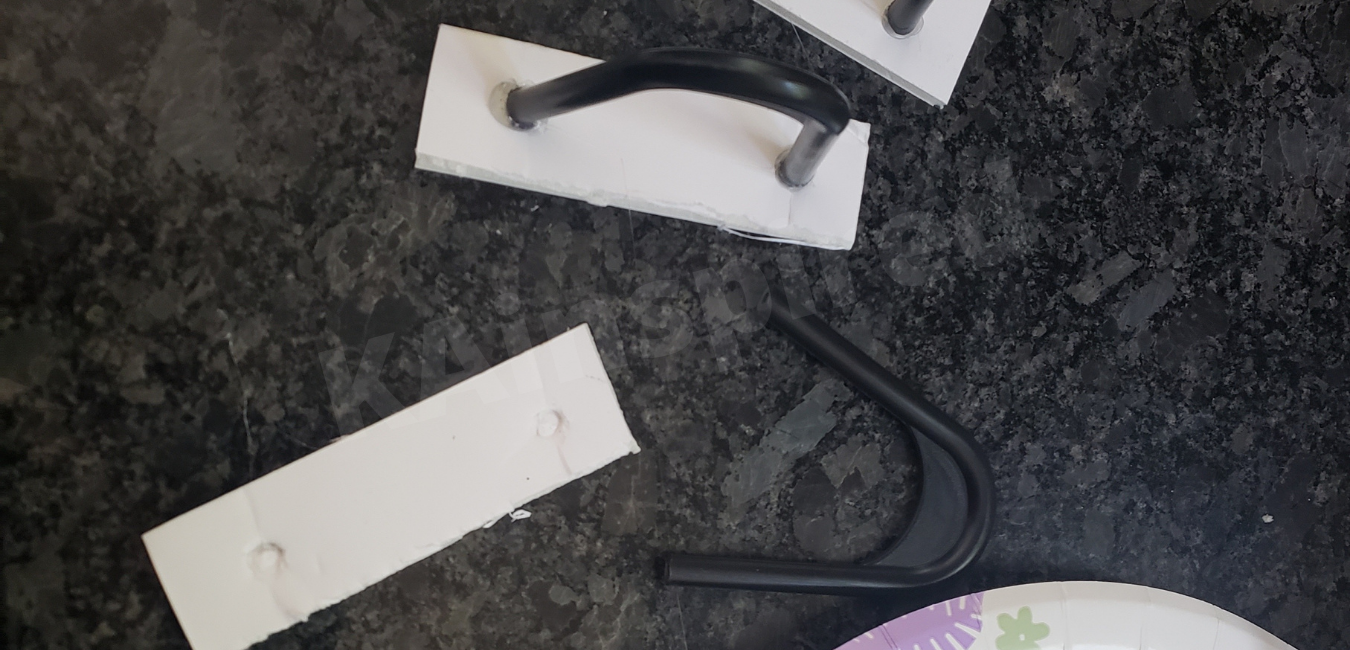 STEP 4: Glue the legs to the foam pieces and then glue the foam pieces to the bottom of the covers.
Now you can stack the trays on top of eachother to make a DIY FARMHOUSE STACKED TIERED TRAYS
DIY FARMHOUSE STACKED TIERED TRAYS
These Farmhouse Stacked Trays are so cute and adorable. There are so many different things you can do with them.
Use them in your bathroom to store your toiletries and small bathroom decor.
Place them in your kitchen with your favorite succulents and small farmhouse items.
Decorate the stacked tiered trays with holiday and seasonal decor.
The possibilities are endless with these Dollar Tree Stacked Trays.
Leave a comment below to let me know how you will decorate your Dollar Tree Stacked Trays.