Do you want to learn how to easily upload fonts to Cricut Design space? Finding and Using new fonts can really improve your Cricut Project.
If you love to use your Cricut, then you are going to want to learn how to use your own fonts and not just the fonts already available in Cricut Design Space.
Let's face it – Cricut design space doesn't offer a lot of free fonts.
In order to use the majority of the Cricut fonts, you need to buy the Cricut Access. And even then, you don't get access to everything. Sometimes Cricut will still make you pay for a certain font or file.
Lucky for you, Cricut Design Space also uses fonts installed on your computer. So you can easily download fonts to Cricut Design Space.
FINDING FONTS TO USE WITH CRICUT
Finding fonts to use with Cricut can save you money, especially if you've been buying fonts from Cricut. Cricut fonts and files can expensive.
Uploading fonts to Cricut will help you to save money.
There are many different ways to find Fonts online. You can find free fonts or paid fonts.
FREE CRICUT FONTS
The most common place that people find Free Fonts for Cricut is on DaFont.
DaFont has so many different fonts and they make it easy for you to find a font you like. You can click the Font Category and then search through the list of fonts.
You can also type your text and preview what it will look like in the fonts listed to help you pick which font you want to use.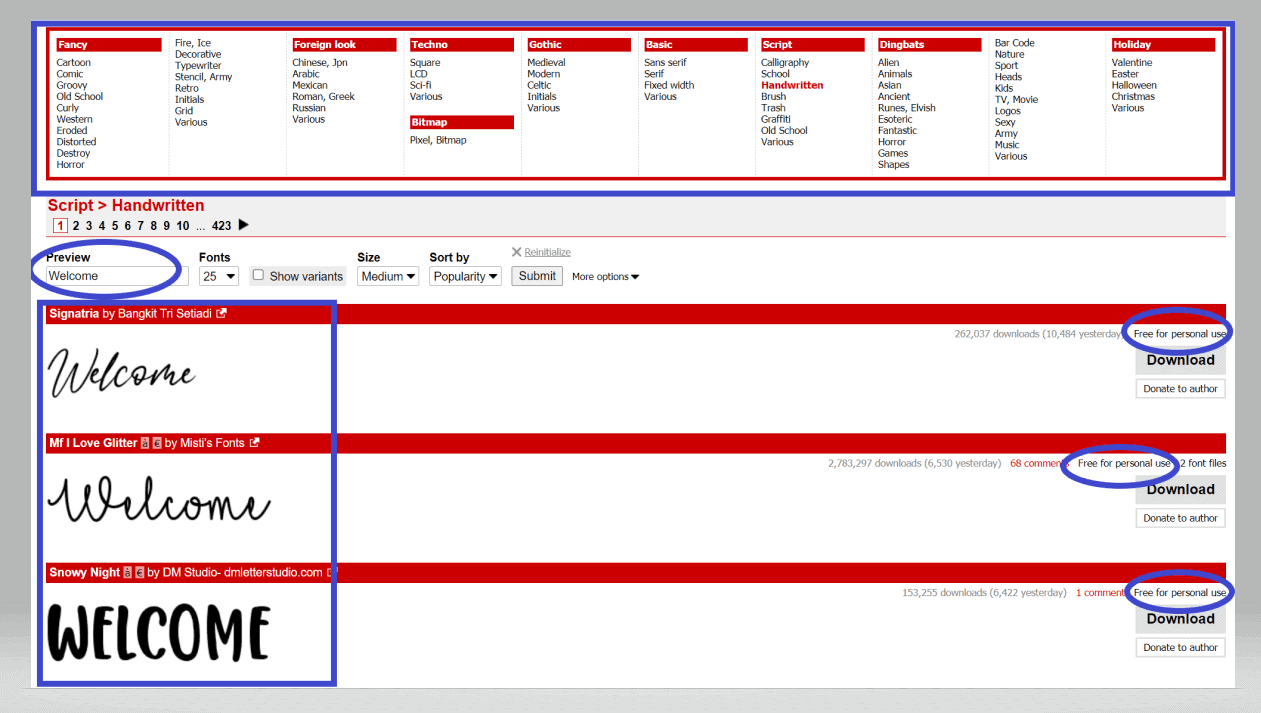 Just remember, if you are going to sell the project with a specific font, you must have a commercial license for the font.
Majority of the fonts on Dafont are for personal use. (See image above, to the far right of each font it will say either "Free for personal use" or "100% Free" ).
That's right, some Free Fonts on Dafont come with commercial use. When searching on DaFont, just select more options and check off 100% free.
You can also find free fonts here:
PAID CRICUT FONTS
There are many places you can pay for fonts to use with your Cricut. When you pay for a font, it usually comes with a commercial license.
FontBundles has a huge selection of fonts and they often have $1 sales. Their $1 sales run pretty often and offer a ton of great premium fonts for cheap.
You can also find paid cricut fonts on Etsy and Creative Market.
HOW TO UPLOAD FONTS TO CRICUT DESIGN SPACE
It is very easy to upload fonts to Cricut.
First you will want to find a font that you want to use with Cricut, whether it's a free font or a paid font.
Once you find the font you want to use, download it to your computer.
If you already had Cricut Design Space open on your computer, you'll want to exit out of it completely. (Don't forget to save your project before you exit!)
Then open a new Cricut Design Space session. Click text and type your phrase. Then go to the font drop down and search for the font you just installed.
By default you'll see all fonts but you can switch to "System" fonts to see all the fonts that are installed on your computer.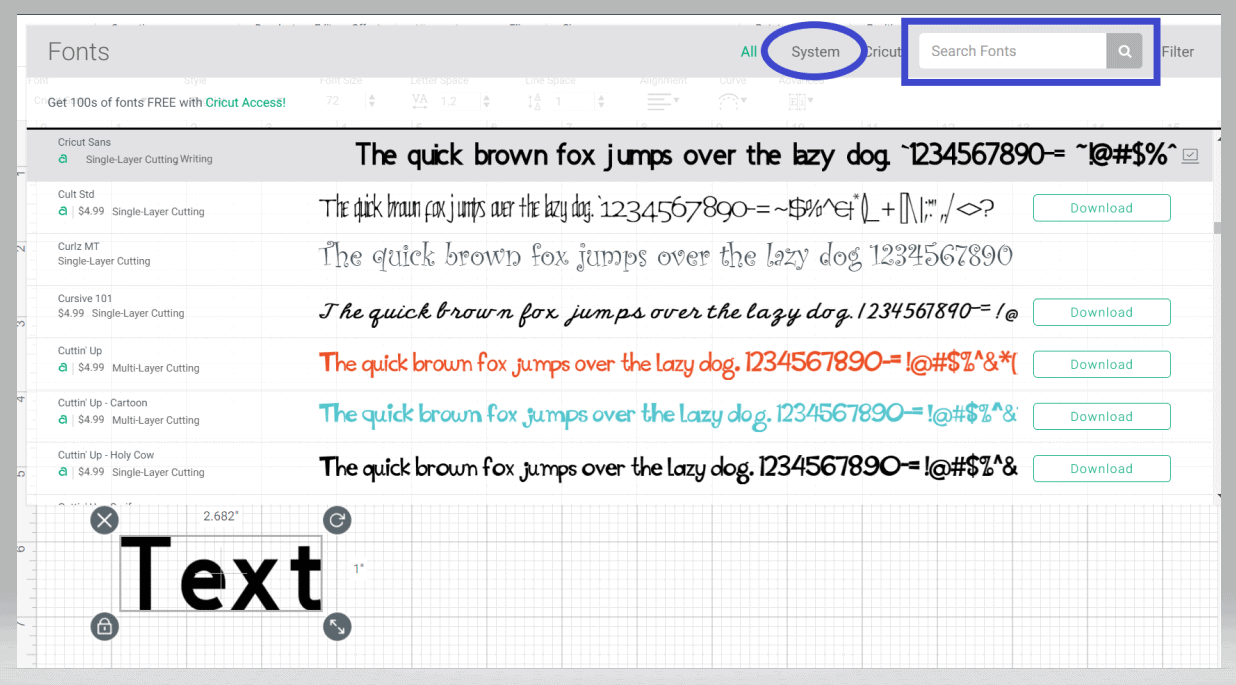 Want other Cricut Tips? Check out:
UPLOAD FONTS TO CRICUT DESIGN SPACE