In this tutorial, I'm going to show you how to make knockout designs in Cricut Design Space with the offset feature.
The Offset feature in Cricut Design Space is one of the newest features with Cricut. It allows you to create decorative outlines to your image and make knockout designs.
There is so many other things you can do with the offset feature but this post will describe how to use the offset feature in Cricut Design Space to make knockout designs.
Knockout Designs are where you combine two different designs into one by overlapping them. Then one design is "knocked out" of the designs. So parts of the image is "knocked out" so in the end the design will have 2 different layers that are no longer overlapping.
Since mother's day is right around the corner, I've been working on many personalized items such as the Personalized Mom T-shirts and Mom Tiles with the knockout method.
STEPS TO MAKE KNOCKOUT DESIGNS IN CRICUT
Create the two designs you want to put together to make a knockout design.
In my example, I used the word MOM in capital letters with a scripted font of her children's names. I LOVE GLITTER font for the scripted names and Arial font for Mom.
2. Select the image or text for which you want to create an offset for. In this example, I selected the scripted font.
3. Next, select Offset. A new window will appear where you can use a slider to choose the size of the offset or you can enter the specific measurement of the offset size. A blue line will appear around your design to help you choose the offset size.
You can also select the corner style for the offset.
CLICK APPLY
4. Now there is a gray bubble around the text. This will help you to create the knockout design.
Take your other image or text (in this example the MOM text) and put it behind the scripted font. Line it up to where you want the knockout to be.

5. Now click the scripted font and drag it to be away from the design.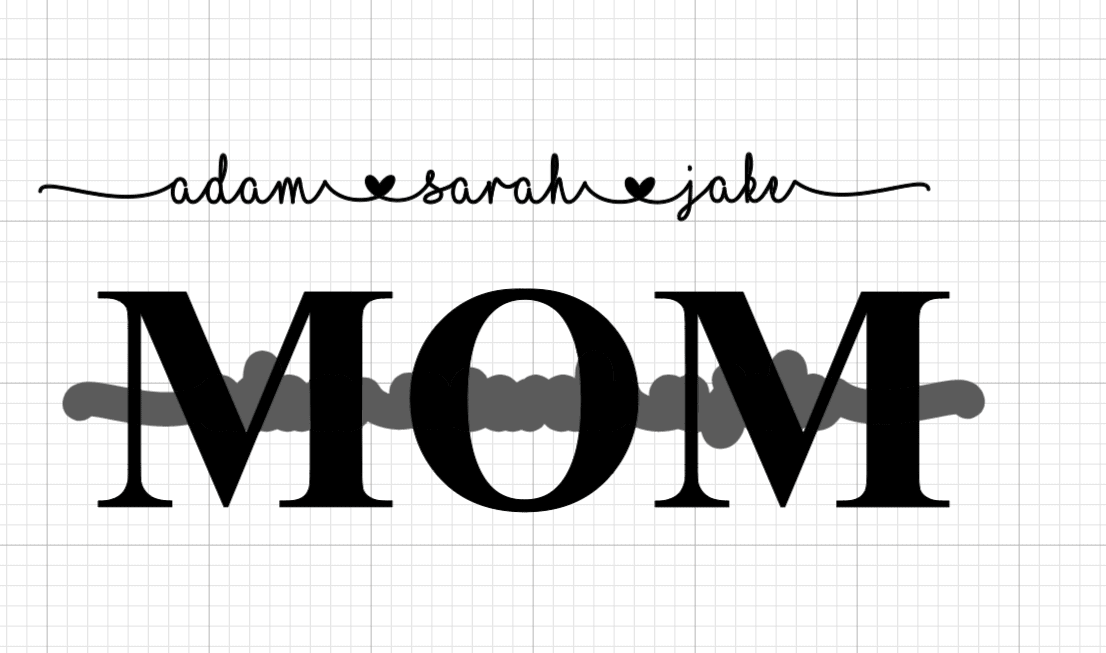 6. Then select both, the gray bubble and the MOM text and click the SLICE FEATURE. Then remove all the sliced pieces.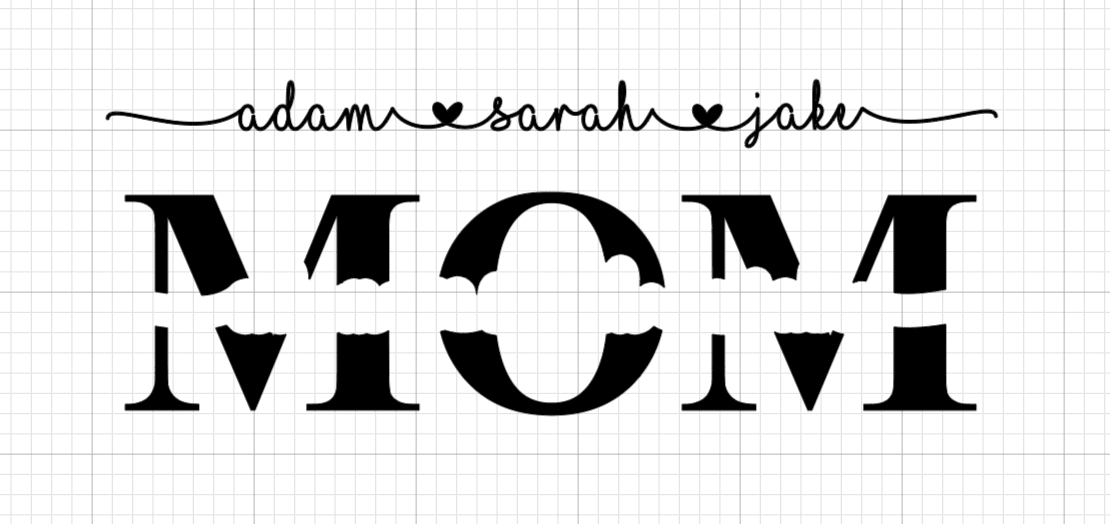 7. Now put the two images together by dragging the scripted font and lining it up to the knockout design.

HOW TO MAKE KNOCKOUT DESIGNS IN CRICUT
That's how you create a knockout design in Cricut Design Space. Creating knockout designs are so much easier to create thanks to the newest Cricut feature, Offset.
You can also use the offset feature to make all different types of knockouts with shapes, images, and text. I know the Offset feature is still in BETA so if you don't have it yet, try doing it on a laptop Windows 10.
Want more Cricut Tips?
CHECK OUT THESE RELATED POSTS:
HOW TO MAKE KNOCKOUT DESIGNS IN CRICUT