If you love to use CANVA to create your content, then check out this list of 18 CANVA TIPS to help you create content faster and easier.
CANVA is a popular tool to help content creators to create and design stunning graphics. I use CANVA to create images for my websites and to create viral Pinterest Pins.
CANVA offers two versions, free and paid. The CANVA free version is pretty stacked with many options, fonts, and templates. The paid version offers everything the free version has plus more options and premium items.
If you have never used CANVA, I recommend starting with the free version. If you have only used the free version, I recommend trying CANVA PRO. It is a monthly subscription but you can get a free CANVA PRO 30-day trial to test it out.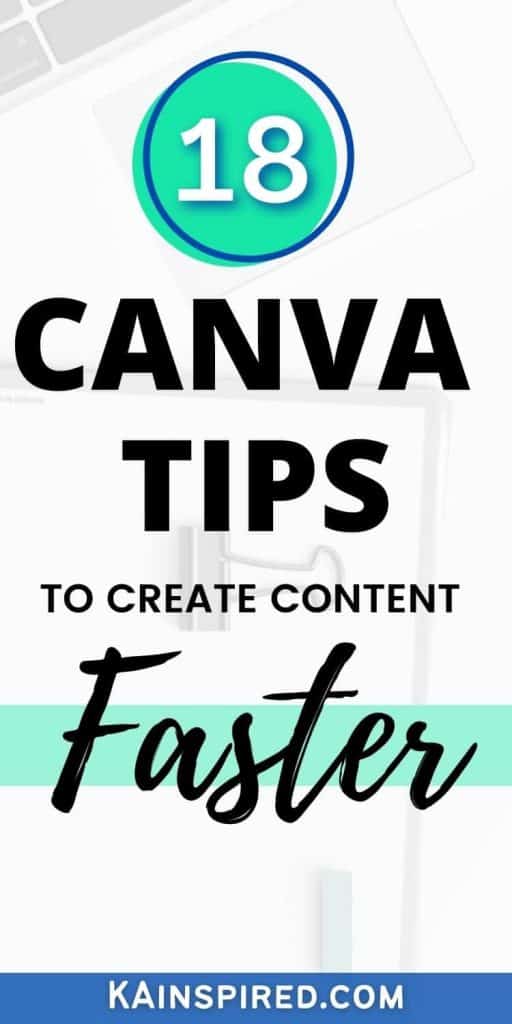 CANVA TIPS
The majority of these CANVA Tips can be used with the Free CANVA version, but there are a couple that is only available with CANVA PRO, the paid subscription.
1 – THE LOCK FEATURE
The lock feature is a great tool when you have a lot going on in your design and you want to lock some items together so you don't accidentally move them.
Select the item(s) you want to lock and then click the lock symbol at the top.
2 – MAKE YOUR TEXT UPPERCASE
While creating your design, have you ever typed out a font in lower case only to realize you'd rather it all be in upper case?
Instead of retyping the text, you can select the text and select CTRL + SHIFT + K
Now you have all capital letters.
3 – RULERS AND GUIDES
If you need help positioning the elements on your designs, you can add rulers and/or guides. Click on File from the menu and then click "show rulers" and "show guides".
Rulers will display the units in pixels at the top and left side.
To make the guides appear, right-click on the design and select "add horizontal guides" or "add vertical guides". The guides usually connect to elements already in the design.
4 – MOVE ITEMS UP AND DOWN
When aligning your layers, image, and text, it's easier to select the item and hit the arrow up, down, left, or right. This helps to get the element exactly where you want it.
5 – REMOVE THE BACKGROUND
Use the Background Removal Tool (only available with CANVA PRO) to remove the background of your image.
6 – CANVA TEMPLATES
If you like to use the same general designs over and over again, you can transform your CANVA design into a CANVA template. You do so by publishing it as a template and saving it to a folder (only available with CANVA PRO).
If you only have the CANVA free version and you want to reuse an old design, there is an easy way to do so. Go to the CANVA home page and look for your design. Click the 3 dots and click "copy".
Now you can edit the copy version and the original version will remain untouched.
7 – TEXT EFFECTS
Once you add some text to your design, you can click effects to get 9 options for making your text stand out.
You can also change the offset, direction, blue, and transparency.
8 – CREATING A TEXT BOX
You can easily create a text box by clicking on your design and clicking the "T" key.
9 – DESELECT AN ITEM
To unselect an item that is selected, click the "ESC" key.
10 – CANVA MAGIC RESIZE
How many times have you created a design and halfway through it you realized you need it bigger or smaller?
Or does this only happen to me?
Thankfully, CANVA PRO solves that issue. The Magic Resize Feature lets you resize your design. This is perfect for when social media changes its recommended ratios or when you want to use the same method for different social media platforms.
11 – ADD A LINE
To add a line, you can use a keyboard shortcut. Click on your design and click the "L" key.
12 – ADD A RECTANGLE
To add a rectangle, you can use a keyboard shortcut. Click on your design and click the "R" key.
13 – SCALE PROPORTIONALLY
Hold the "ALT" key and drag your design to scale it proportionally. You can drag from either the corner or the side.
14 – DUPLICATE AN ELEMENT
To easily duplicate an element on your design, select the element and click CTRL + D
15 – MOVE LAYER FORWARD
To move a layer forward, use the keyboard shortcut CTRL + ALT + "]"
16 – MOVE LAYER BACKWARD
To move a layer backward, use the keyboard shortcut CTRL + ALT + "["
17 – ZOOM IN
To zoom in on your design, click CTRL + "+"
18 – ZOOM OUT
To zoom out on your design, click CTRL + "–"
BEST CANVA TIPS
Those are my best CANVA Tips and tricks to help you create content faster with CANVA.
Leave a comment below and let me know what your favorite CANVA tip is.