When creating Pinterest Pins with CANVA, it can be tough deciding on which fonts to use. So I put together a list of the 20 best CANVA font combinations that are perfect for Pinterest Pins.
Pinterest has millions of monthly users, so it's a no-brainer for content creators to use Pinterest to grow blog traffic.
The only way to have a chance with your content going viral on Pinterest is by creating eye-catching, attractive Pins.
Use CANVA to create beautiful, aesthetic Pinterest Pins that will grab your reader's attention. Choose fonts wisely because they can make or break how well your Pin will perform.
If your audience can't read the font on your Pin, they'll keep on scrolling and you won't get any Pinterest Clicks.
And if you need more CANVA help, check out my favorite CANVA TIPS. This includes tips and shortcuts to help you create content faster.
HOW TO ATTRACT YOUR AUDIENCE WITH FONTS?
Fonts play a significant role in the design of a Pinterest Pin.
You can use the best image and catchy title, but the wrong font will kill a Pin.
If your audience cannot read the font, they are not going to click through your Pin. They will keep scrolling.
So be selective with the fonts you pick. You want the fonts to highlight your Pin and help you grow your website traffic.
Here are some basic pin font tips:
PIN FONT TIPS:
Use fonts that stand out
Make sure they are easy to read
It's common to use a BOLD font with a script or thin font. But make sure the script font is still readable.
Keep the font colors simple
Use 2-3 different fonts. Using the same font on the whole Pin design can be boring
It's best to use multiple fonts that complement each other to highlight the pin's catchy title.
20 best CANVA font combinations
If you have used CANVA before, you know it comes with A LOT of Fonts.
So it can be challenging to figure out which fonts to use and which pair well together.
I've spent so much time using CANVA trying to figure out the best fonts to use for pins that I've decided to save you time and sanity by giving you a list of the best CANVA font combinations that will make your pins stand out.
list of the best CANVA font combinations to use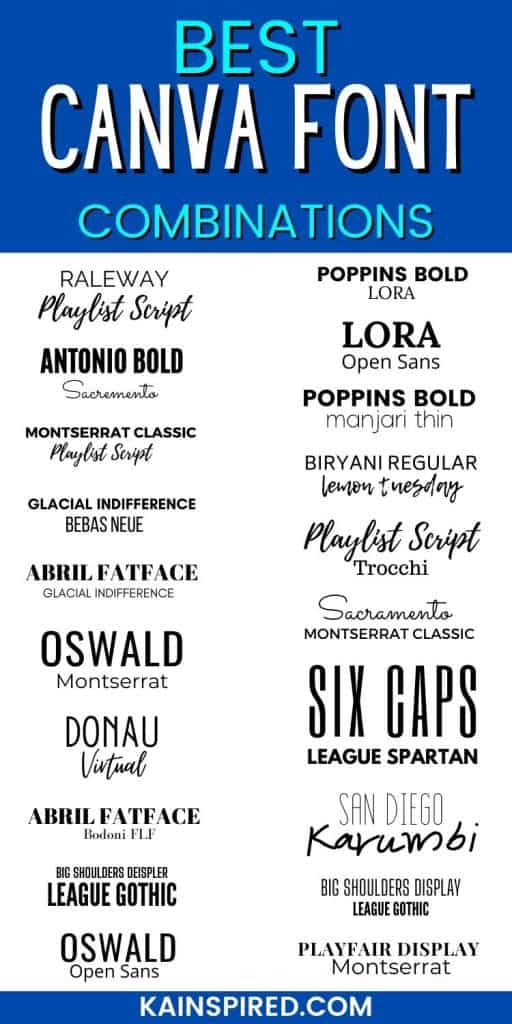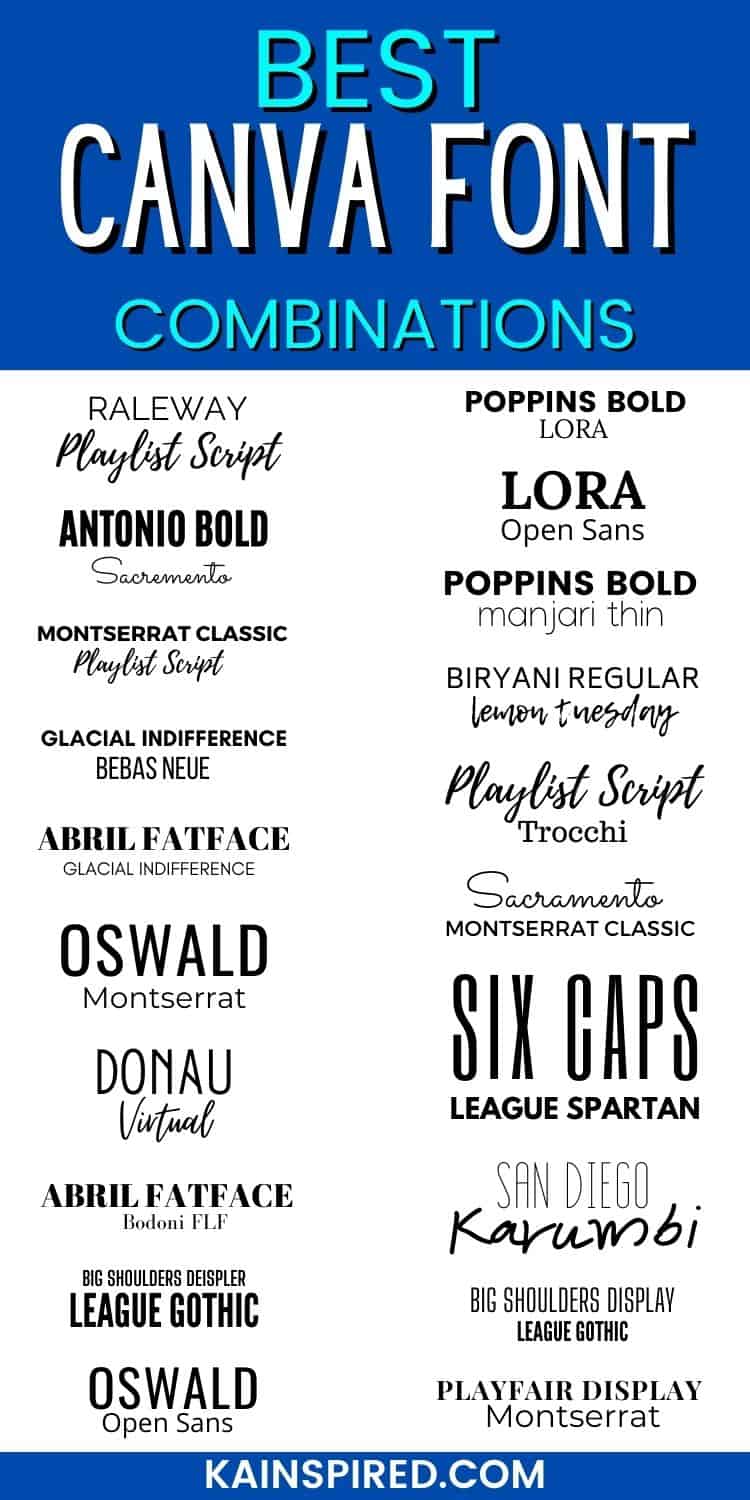 BEST CANVA FONT COMBINATIONS