Are you trying to figure out how to make a Pinterest Pin go viral? Does it seem like no matter what you do, they just get lost in the sea of images on Pinterest?
You've probably been on Pinterest searching for tips on how to succeed with Pinterest. Being successful on Pinterest has a lot to do with your Pinterest Strategy.
Well, I may know why this is happening and I am going to tell you how to fix it. So if you want to learn how to make a Pinterest pin go viral, keep on reading.
In the beginning, I was just like you. I would create my pins, upload them, and just wait for them to take off. But they never took off. They resulted in little to zero traffic. I was frustrated.

Many fellow bloggers said they were receiving thousands of people to their blog every month from Pinterest. So I knew I must be doing some wrong.

So for the last 3 years, I've been experimenting with Pinterest. One of the things I wanted to learn was why some pins would go viral and why others didn't.
After some time, I figured out how to make Pinterest pins go viral.
how to make a pin go viral
The key to getting a Pinterest Pin to go viral is by creating visually, compelling pins.
Making a pin go viral has nothing to do with the content in your blog post. But, if you want your visitors to stay on your page, you need great content.
Pinterest is a visual search engine. You need to create pinnable images that are aesthetically pleasing. Don't forget to add the pinnable image to your blog posts.

If you are not getting viral pins or any traffic from Pinterest, then you need to work on the Pins you are creating. It does not matter how many followers you have because anyone can create a pin that goes viral.

I'll walk you through 7 essential tips all your pins should have. These tips will highly increase your chances of making your pin go viral. I do want to note that Pinterest has made it clear that there is no way to guarantee a viral pin but these tips will greatly increase your chances.
7 Tips on How to Make a Pinterest Pin Go Viral
The Perfect Pin Image
When you create your pins, you want to pick an image that is related to your content.

Stay away from blurry photos. Always go for high-resolution, eye-catching photos.

You can either take your own photos or use stock photos. If you do use stock photos, whether free or paid, make sure they come with commercial rights for you to use on your blog.
Pin Size
The size of your Pinterest Pin is so important. If you don't have the right size, you are setting yourself up for failure. You want to make sure your pin is taking up the right amount of space on the Pinterest Feed.
If your pin is too long, part of it could get cut off. If your pin is too short, your pin will rarely be seen.
Pinterest has always said the perfect pin ratio is 2:3.
So never use square images. They are not aesthetically pleasing and Pinterest will less likely show your pin as they don't like square images.
If you are not sure what size to use, go with 1000 x 1500.
Colors
The color you use on your pins is so important. Some colors are known to be pinned more than others. People are drawn to certain colors.
When I first heard this, I did a test. I made the same pin but changed the colors. Some colors really do perform better than others.
So create pins with bright and warm colors. Don't use dark colors. You want your pin to pop and stand out to people as they scroll through Pinterest.
Add Text
When you create your pins, you want to add text to the image.
This will help to make your pin stand out as well as get your message out there. If people know right away what the pin is about, they'll click to go to your blog (assuming they are interested in that subject).
If they don't clearly know what the pin is, they'll keep on scrolling.
So don't make the text too long. Make sure the font stands out and it's legible. You want people to easily read it while they are scrolling through Pinterest.
Eye-Catching Titles
If you want to increase your chances of getting your pins to go viral, you need to make sure your blog titles are eye-catching.
It doesn't matter if the content is amazing, if the title doesn't stand out, people won't want to read your blog post.
When you create your pinnable images for your blog post, you can write the blog title on the image. This will tell people what your blog post is all about if they only see the image.
Pinterest SEO
People are constantly searching Pinterest for ideas and topics.
So you want to make sure your pin shows up in their search results when they are searching for your niche. In order to show up in those search results, you need to focus on SEO.
With Pinterest, you want to make sure your pin's description is full of keywords. So use keywords that are related to your content and don't forget to include hashtags.
If you're not sure which keywords to use, check out my post: How to Find Keywords to Use with Pinterest
Social Share Button
When creating your blog, you want to make sure you install a social share plugin.
This will make it easy for your readers to easily share your blog post on their social platform of choice. All they have to do is click the share button and they can easily promote your blog.
So make sure you add at least one pinnable image to your blog post. This way your readers can easily share it on Pinterest.
When I am reading a blog post and I love the content, I will share it. If they don't have a pinnable image and a social share button on their blog, then I won't pin it since I have no way to share it.

Make it easy for your readers to promote your blog posts.
WHERE TO MAKE VIRAL PINS
Now you know the 7 tips to make a pin go viral you are probably wondering where you can make Pinterest Pins.
My favorite program to use to make Pinterest pins is Canva!
Canva is a graphic design platform that allows users to create visual content to use with Social media, posters, presentations, and more!
Canva offers a free version and a paid version. If you upgrade to the paid version, you will have access to thousands of fonts, stock photos, designs, and so much more!
HOW TO MAKE A PINTEREST PIN GO VIRAL
If you want your Pin to go viral, you need to make sure you are creating pinnable images and you are adding those images to your blog post.

If you follow the tips I outlined above on how to make a Pinterest pin go for viral and you're not seeing results, make some tweaks. Use different photos, try different colors, and work on your blog titles and content.

You want to figure out what your audience likes so you can create the content and pins for them.
Your audience will be the ones to click on your pins and share them. So it may take practice as you learn what your audience loves.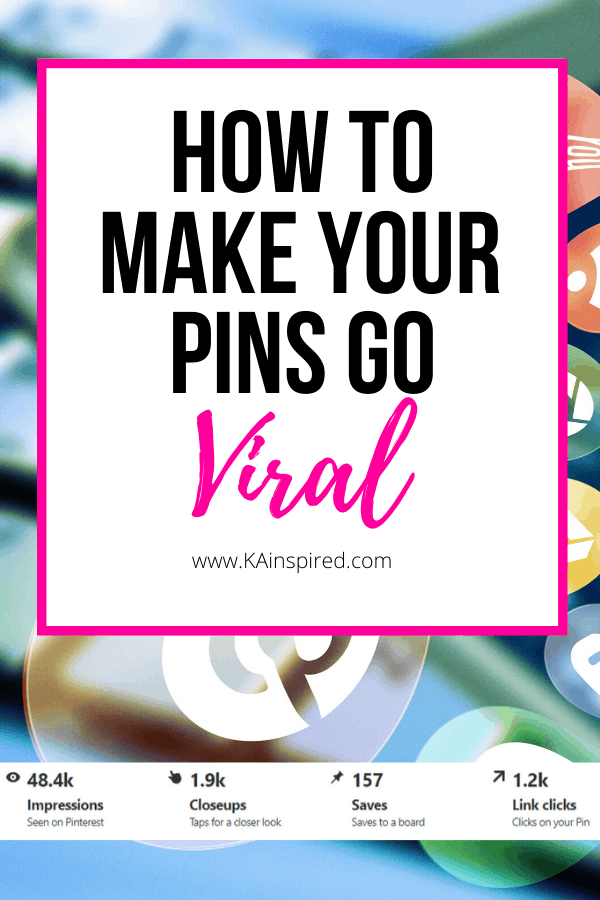 HOW TO MAKE A PINTEREST PIN GO VIRAL