Learn how to make your own Cricut Cake Toppers. It's pretty easy to make your own cake toppers with Cricut Design Space so you'll never have to buy cake toppers again!
Cricut Cake Toppers is an easy Cricut Project that doesn't take long to make. And the results can truly transform your cake.
If you like the entire top of the cake to be decorated, then you'll want to use cake toppers for the cake message.
You can get creative and make any message you want for your cake topper. You can personalize the cake without messing up the decorated cake.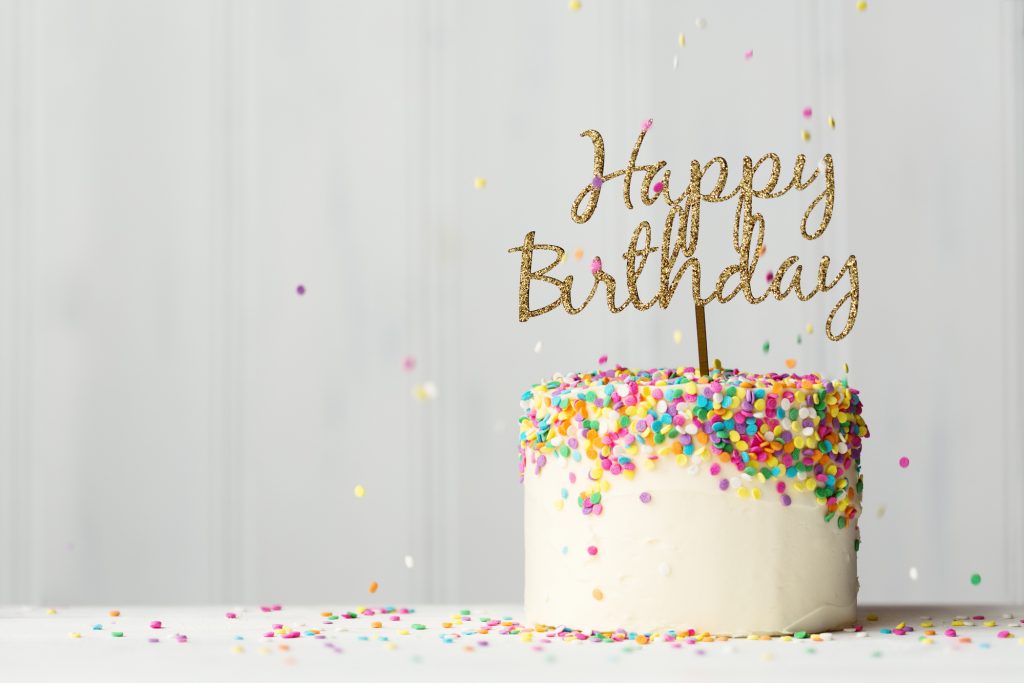 MATERIALS TO DIY CAKE TOPPERS
HOW TO MAKE A CRICUT CAKE TOPPER
STEP ONE: CREATE A DESIGN IN CRICUT DESIGN SPACE
First you'll want to design the cake topper message in Cricut Design Space.
If you don't want to create your own message, you can always purchase a SVG.
STEP TWO: CUT THE CRICUT CAKE TOPPER
Once the design is ready, you'll want to cut the design with your Cricut Cutting Machine.
Keep in mind: if the material you are using has a white back, you'll want to cut the design twice. The first cut can be done as normal and the duplicate second cut should be mirrored so you can glue the two cuts together.
STEP THREE: ATTACH THE WOODEN DOWEL
Once the design has been cut, you'll want to attach the wooden dowel to the back of your cake topper.
Add a line of hot glue to the wooden dowel and attach the wooden dowel to the cake topper. Make sure the wooden dowel is high enough to provide stability to the diy cake topper.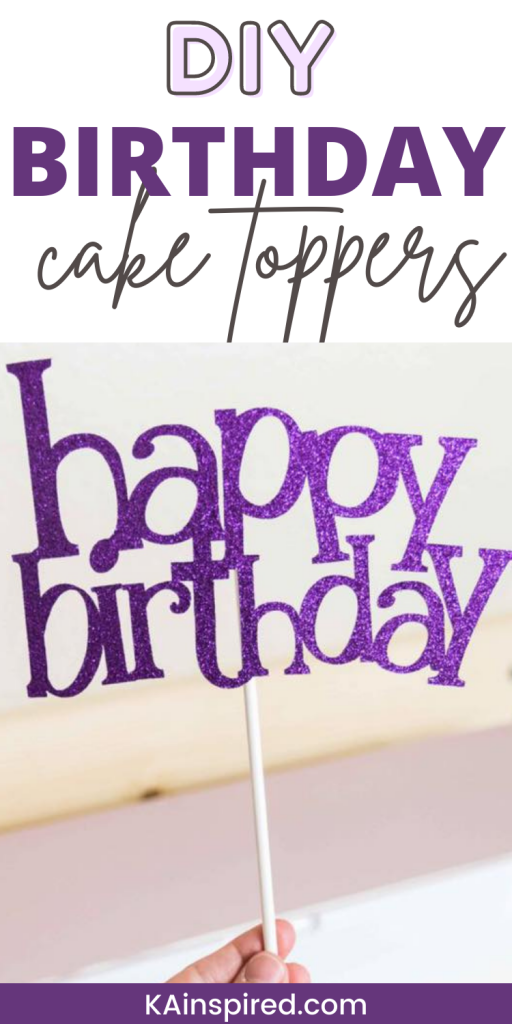 TIPS TO MAKING CAKE TOPPERS WITH CRICUT
1 – PICK A THICK FONT
When you want to make your own DIY Cricut Cake Topper, you'll need to decide on a font.
A good Cricut Tip for making Cake Toppers is to pick a thick font because you want the letters to overlap. This makes it easy to connect the letters.
You can pick just about any font, as long as it is thicker. So it can be a script font or a serif font.
Just be careful with the script fonts because sometimes they have thin parts. If you use a font with thin lines, it will be very delicate and easy to rip.
If you're not sure what font to use, you can check out wordmark.it. It will look at all the fonts you have installed on your computer.
If you want a new font, you can easily upload a Font to Cricut Design Space.
2 – JOIN all the letters
Once you pick a font for your Cricut Cake Topper, you want to make sure you attach all the letters.
When you pick a cursive font, it is easy to attach each letter with Font Kerning.
But when you select a serif font, you'll want to ungroup each letter and then overlap them. You can change the angle of each letter to help with overlapping.
3- WELD THE LETTERS
Once you have picked a font and joined all the letters by overlapping or connecting script letters, you are going to want to weld the letters together.
So select all the letters and click weld.
Welding the letters together will ensure that it cut as one piece. If you don't weld, the Cricut will cut each letter individually, which won't work for a Cake Topper.
You need it all to be connected and cut together, so don't forget to weld the design.
4 – SIZING
Once you have welded the design together, you can decide on the size of the design.
So figure out what size cake you will have and then use that as a guide on how big you want the cake topper.
Bigger the cake topper, the better.
5 – CARDSTOCK
Once your design is ready to be cut, you are going to want to make sure you cut it on the right type of material.
You are going to want to use cardstock for your cake topper.
And the thicker the cardstock the better, to ensure it stays up and doesn't flop over.
110 lb. Card stock is a good starting base and it comes in many colors. So you can make the Cricut Cake Topper the color of your party or cake theme.
Just make sure you use the right setting on your Cricut so it will cut through the cardstock.
If the color of the cardstock you are using is not thick enough, you can use poster board too. Just cut the design 3 times: twice with your color card stock (second cut should be mirrored) and once with poster board.
You'll glue both cardstock cuts to the poster board to give your Cricut Cake topper Stability.
MAKE CRICUT CAKE TOPPERS
It is really simple and easy to make your own Cricut Cake Toppers.
Cake Toppers are one of the easiest Cricut projects and perfect for Cricut Beginners.
You can make your own Cake Toppers for all different occasions: birthdays, weddings, bridal showers, baby showers.
Leave a comment below and let me know what occasion you'll make your cake toppers for.