Owning a Cricut is fun but it can be intimidating, especially for a beginner. You may not know what supplies you need or how to get started. So I'm going to share 15 Cricut Hacks to save your sanity and help you with your Cricut Journey
These Cricut Hacks will make you more comfortable with using your Cricut Machine.
And if you are a seasoned Cricut User, you may be surprised by some of these Cricut Hacks.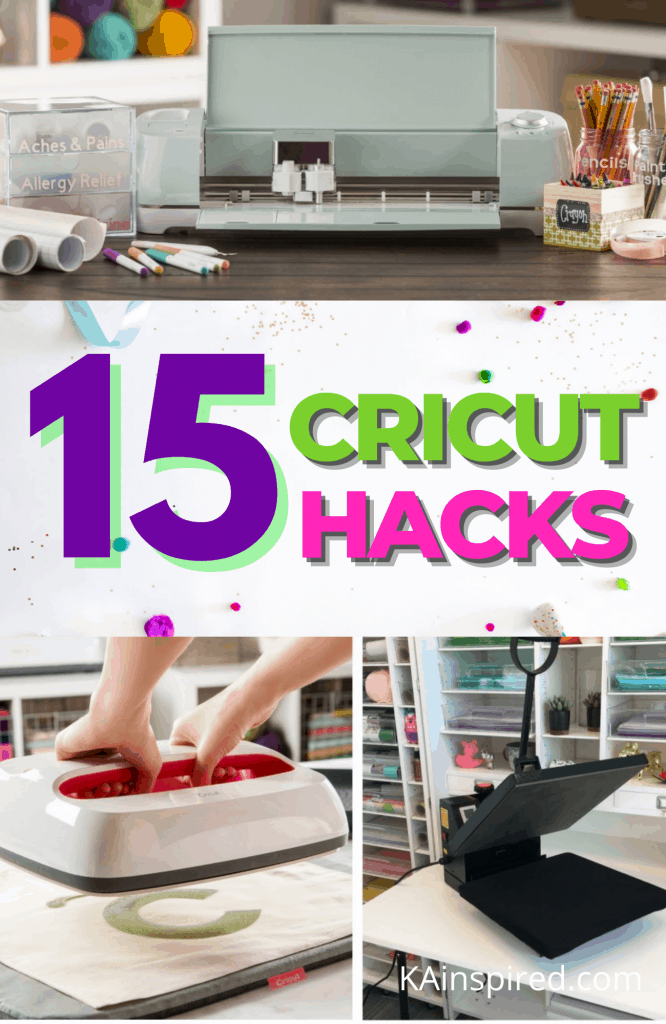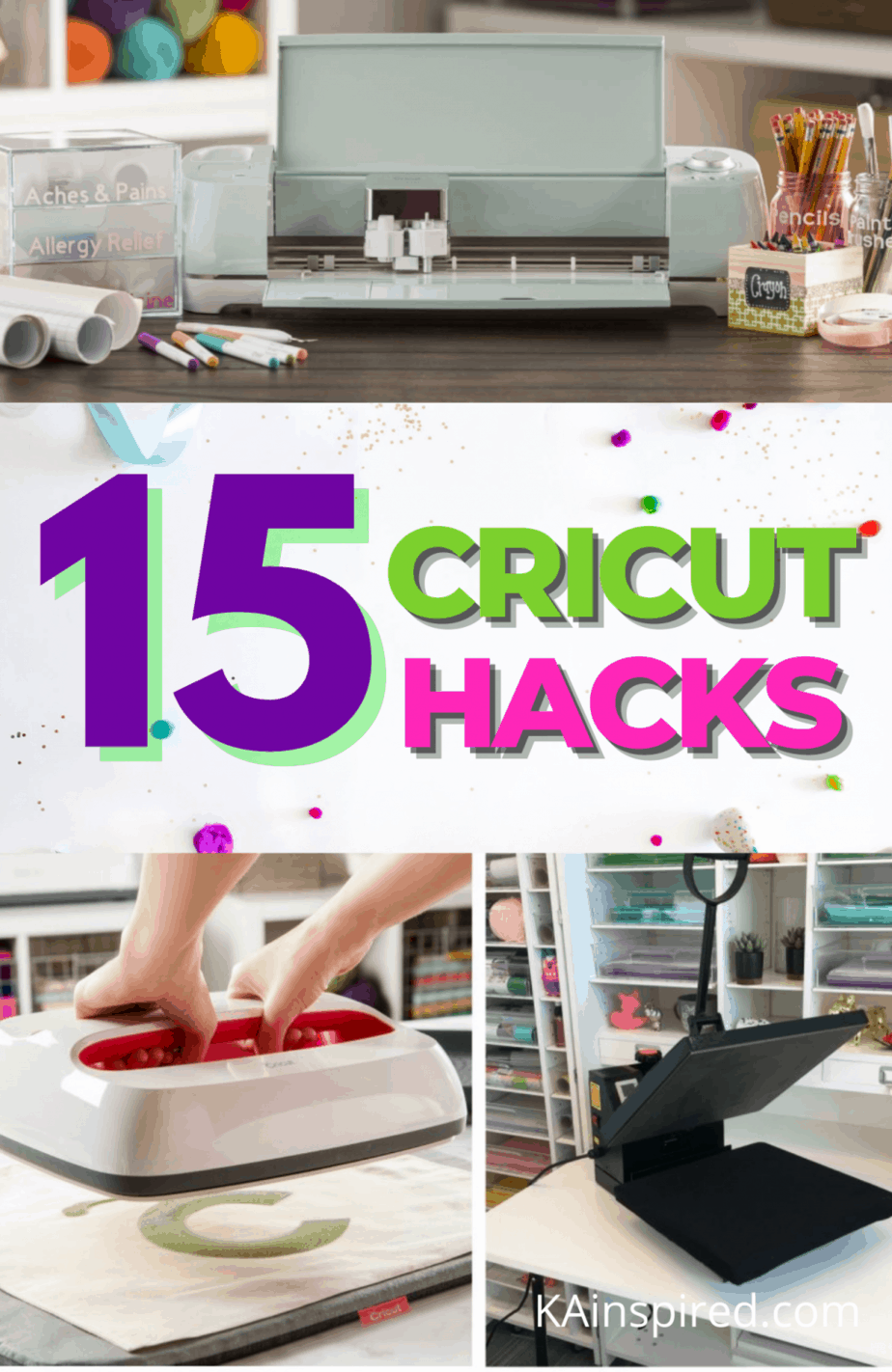 Cricut Hacks
1. Peel the mat away from the material
It may seem easier to peel your material (such as Vinyl, HTV, or cardstock) off of the Cricut Mat but it's actually better for your craft to gently peel the Cricut Mat way from the material.
Especially when cutting paper or cardstock, the material can curl. So peel the Cricut mat away from the material to prevent the material from curling.
2. HOW TO QUICKLY PICK A FONT ON YOUR COMPUTER
Wordmark.it helps you to choose fonts quickly. You enter a word or phrase and it will display the text with all the fonts installed on your computer. So now you don't need to scroll through your fonts on Design Space trying to pick a font for your project.
3. Clean Cricut blades with tin foil
In between projects, you should always clean your Cricut Blade because sometimes material can get stuck in the blade. So make a tin foil ball with aluminum foil and stab the blade into the tin foil ball to clean it.
You may have heard this Cricut Hack sharpens the Cricut blade too but that is myth. Foil can only clean the blade (not sharpen it).
4. HOW TO EASILY WEED YOUR PROJECT
When weeding a dark vinyl project, sometimes it's hard to see the lines. Many people recommend the Cricut Brightpad, which can get costly.
So another trick is to sprinkle a little bit of baby powder and brush it over the design with a makeup brush. The powder will go down the lines to make it easy to weed your project.
5. Clean Cricut Mats INSTEAD OF THROWING THEM AWAY
If your Cricut mats get dirty and unsticky, you can easily clean them and bring them back to life with some common household items such as dish soap and water. Click here to learn how to Easily Clean Cricut Mats
6. Dollar Tree CRICUT BLANKS
The Dollar Store has some of the best (and cheapest) Cricut Blanks. check out this ultimate list of the Best Dollar Tree Cricut Blanks.
7. Nail Polish holder for Vinyl Scraps
Use a Nail Polish holder while you are weeding your project to hold your vinyl scraps.
8. HTV (Iron on Vinyl) on Wood
Instead of using permanent vinyl on wood, use HTV (heat transfer vinyl). You can use your Heat Press, Cricut Easy Press, or an iron to apply the iron on vinyl.
9. IKEA PLASTIC BAG STORAGE HOLDER FOR VINYL
Once you start getting obsessed with making vinyl Projects, you'll find your self buying rolls and rolls of vinyl. So get yourself an Ikea Plastic Bag Storage Holder to store and organize your vinyl.
10. Crayola MarkeRs instead of Cricut Pens
If you don't have Cricut Pens on hand, you can use Crayola Markers instead of Cricut Pens. Crayola Markers fit perfectly in the Cricut Pen Holder.
11. HOW TO MAKE A THIN FONT THICKER
To make a thin font bigger, duplicate the font, put it on top of each other and then weld.
12. HOW TO CUT SMALL FONTS
If you are trying to cut small fonts with vinyl and the letters are getting caught in your blade, cut it on the washi sheet setting.
13. REVERSE WEEDING
Reverse Weeding is a simple Cricut Hack where you place transfer tape over the entire decal you are wanting to weed. Then you peel off the vinyl backing and any excess vinyl that you do not need. So you weed your project while it's on the transfer tape.
Reverse weeding is helpful with intricate designs.
14. Cut slits in your transfer tape
When apply vinyl decals to curved surfaces, it can get tricky to line it up straight. So cut slits in the transfer tape to make it easy to apply the decal to your curved surfaces. This is an awesome Cricut Hack for applying decals to Christmas Ornaments.
15. RECUT YOUR PROJECT
If you are cutting a thicker material and you know it doesn't cut all the way through the first time, you can recut your project. When the project is done cutting – DO NOT UNLOAD it. Instead hit the "C" or "GO" button on your Cricut and it will recut your project in the exact same place.
THE BEST CRICUT HACKS YOU PROBABLY DIDN'T KNOW
I hope you enjoyed these Cricut Hacks! Let me know in the comment section which Cricut Hack surprised you the most.