Many people don't realize it's possible to clean Cricut Mats and make them sticky again after they get dirty and full of gunk.
All a Cricut Mat needs is a little bit of cleaning and it will be sticky again like it's brand new.
If you use your Cricut Mats often, you'll notice every few months they'll lose their stickiness.
By cleaning your Cricut cutting mats, you can save money since Cricut mats are not cheap to replace.
There are several ways to clean Cricut Mats but I'm going to list out my 3 favorite ways to clean them.
If you are not sure what a Cricut is, check out my post: What is a Cricut and learn what you can do with a Cricut.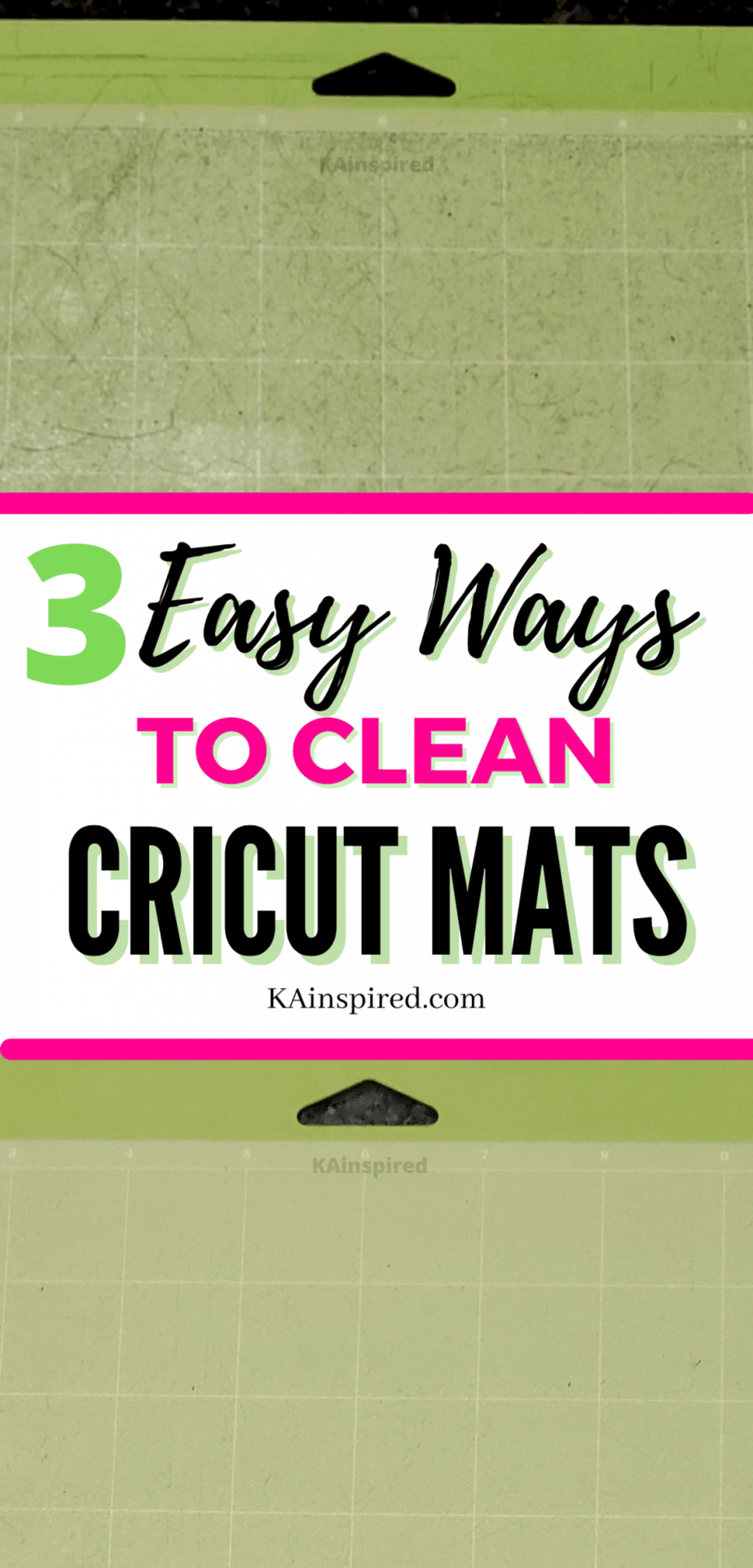 MAINTAIN YOUR CRICUT MATS
Every time you use your cutting mats, you want to replace the cover as soon as you are done. This will prevent dust (and dog hair) from sticking to your mat.
WHEN TO CLEAN CRICUT MATS
You should clean your mat as soon as you start noticing debris sticking to your mat.
The debris on your mat could be things such as dust and dog hair, which is naturally in the air. It could also be from items you are cutting, such as felt, glitter vinyl, and fabric.
When I make Reusable Stencils, sometimes it leaves little pieces behind. So I use this as a good time to clean my mats as it removes all those tiny cuts and makes my cutting mats clean and sticky again.
3 EASY WAYS TO CLEAN CRICUT MATS
#1 – TOTALLY AWESOME CLEANEr
My favorite way to clean Cricut Mats is with LA's Totally Awesome All-Purpose Cleaner that can be found at the Dollar Store. It will clean your Cricut Mats and make them sticky again in no time.
If you don't have a Dollar Store near you, you can get LA Awesome Cleaner on Amazon. It is a little pricier than the dollar store though.
To clean your cutting Mat with Totally Awesome Cleaner, you will need to spray the cleaner all over your mat. Let it soak for approx. 10 minutes. Then use the Cricut Scraper to scrape and push all the gunk off of the mat.
If you don't have a Cricut Scraper, you can use an old credit card. All you need is medium pressure to push all the yucky debris and gunk off of your mat.
Afterwards I like to wipe it down real quick with a baby wipe or dampy paper towel. Then I let it air dry.
Your Cricut Mat will be clean and sticky again.
This is my favorite way to clean Cricut Mats.
#2 – BABY WIPES
When your mats are just starting to get dirty, you can wipe them down with a baby wipe.
Baby wipes are easy and convenient because you can store them right in your craft room.
You can start at the top of your mat and wipe the mat in circular motion until the entire Cricut Cutting Mat is clean. Use the baby wipe gently and you'll notice it will start taking off some of the gunk on the mat.
Once all the debris is removed, let it air dry. Then your Cricut mat will be sticky again.
I find the baby wipe method most effective when the Cricut Mat is just slightly dirty.
#3 – DAWN DISH SOAP
You can use Dawn Dish Soap to clean Cricut Mats.
All you need to do is apply some Dawn Dish Soap to your Cutting Mat and let it sit for 5 minutes.
Then hold the Cricut mat under warm, running water and gently rub away any gunk on the mat with your fingers.
Don't use a sponge because you could rub away the adhesive.
Let the cutting mat air dry and then your Cricut mat will be sticky again.
3 EASY WAYS TO CLEAN CRICUT MATS