Buying crafting supplies for your Cricut can add up fast. So your best place to find budget-friendly craft supplies is at Dollar Tree. I am going to share with you the Best Dollar Tree Cricut Blanks.
Everything at the Dollar Tree is $1 and every Dollar Tree can carry different items. So make sure you check out all the Dollar Tree's in your area. I have 3 in a 15-minute radius and they all carry different inventory.
The Dollar Tree has the best blanks to use with a Cricut. And Dollar Tree has crafting supplies too!
So now you can make affordable gifts and decorations with your Cricut by using the Best Dollar Tree Cricut Blanks.
And if you don't have a Cricut, check out my post What is A Cricut?
If you are new to Cricut you probably have realized that you can customize almost anything with your Cricut. You may also realize that crafting can get expensive.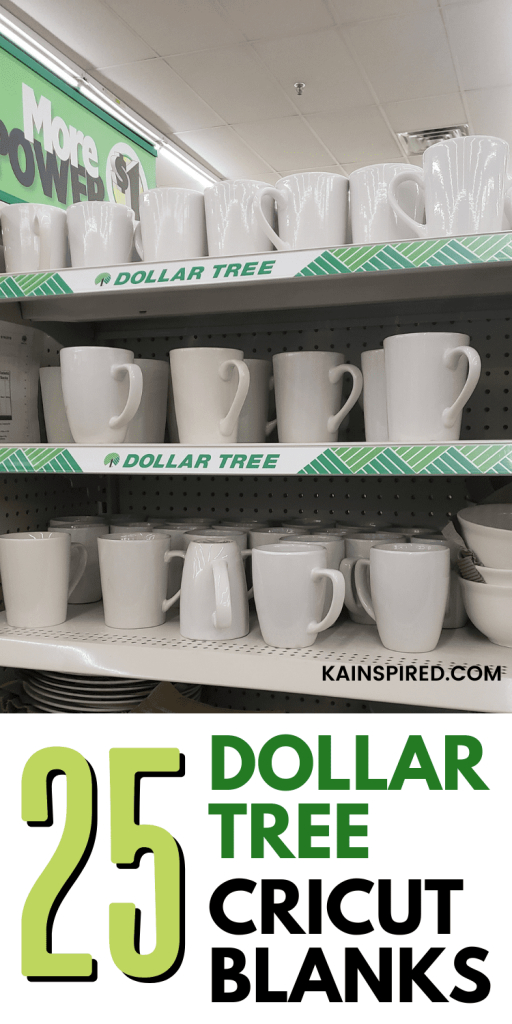 WHAT IS A CRICUT BLANK?
A Cricut Blank is an item you can customize using material you cut with your Cricut.
A Cricut Blank is usually a solid plain item without a design.
The Dollar Tree is full of blank items that can be customized with a Cricut
You can also find Cricut blanks at other stores such as Target, Walmart, Michaels, Hobby Lobby, and Amazon.
THE BEST DOLLAR TREE CRICUT BLANKS
I put together the ultimate list of Cricut Blanks from Dollar Tree.
DOLLAR TREE CRICUT BLANKS DRINKING GLASSES
Wine Glasses
Dollar Tree has Stemless Wine Glasses and Long Stem Wine Glasses.
Create a design in permanent vinyl to make the perfect custom gift for family and friends.
Beer GLASSES
The Dollar Tree Sells beer mugs and pint glasses so you can make your beer loving friend a custom beer glass.
MASON JARS
The Dollar Tree Mason Jars with handles are perfect to customize and drink out of in the summer.
COFFEE MUGS
Add permanent vinyl to the Dollar Tree Coffee Mugs to make a custom gift for those who love coffee. They come in a variety of sizes and colors
DOLLAR TREE CRICUT BLANKS FOR THE KITCHEN
PLATES
Dollar Tree sells blank plates in a variety of sizes and colors. They are trendy to use for Santa's Cookie plates.
BOWLS
You can use Dollar Tree Bowls to make Rae Dunn Inspired Cereal bowls.
GLASS CUTTING BOARDS
The glass cutting boards at Dollar Tree are one of my favorite Cricut Blanks. I love to include them in gift baskets. Check out how to DIY Glass Cutting Boards
Pot Holders
The Dollar Tree Pot Holders can be easily personalized by adding HTV. They are great to give as gifts for those who love to cook and new homeowners.
KITCHEN SPOON RESTS
Dollar Tree Kitchen Spoon Rests can be personalized to accessorize your kitchen.
Cake CONTAINERS
If you love to bake cakes, you can get a Dollar Tree Cake Container and decorate it with vinyl!
Cupcake Containers
Dollar Tree also sells Cupcake Containers. You can make a DIY Cupcake Decorating Kit and decorate it with your favorite vinyl to help bring a little sunshine to your favorite little humans.
DOLLAR TREE APRON
The Dollar Tree Aprons are perfect for making a personalized gift for those who love to bake and cook.
DOLLAR TREE CRICUT BLANKS FOR THE BATHROOM
SOAP DISPENSER and TOOTHBRUSH HOLDER
You can make Rae Dunn inspired Soap Dispensers and Toothbrush holders for your bathroom by adding a simple vinyl decal.
COSMETIC BAGS
Dollar Tree Cosmetic Bags to hold your makeup and toiletries can be personalized with HTV with your favorite saying or a name.
Makeup Brush Holders
You can use Glass Candle Holders as makeup brush holders. add some glitter and a Cricut delay.
DIY DOLLAR TREE CRICUT BLANKS
DOLLAR TREE PIZZA PAN
The Dollar Tree Pizza Pans have been very popular among many DIY Crafter who use them to make front door signs.
Dollar Tree Art Canvas
The Dollar Tree Art Canvas is perfect for making signs. You can also make Reverse Canvas Signs.
With Art Canvases, you can apply permanent vinyl, HTV vinyl, or make a stencil with removable vinyl to paint your design.
DOLLAR TREE WOOD CRAFTS
The Dollar Tree sells many different wood crafts such as wooden trays, birdhouses, wood cubes, wooden words, and so much more. Add some paint and a decal using your Cricut.
DOLLAR TREE PICTURE FRAMES
The Dollar Tree Picture frames are perfect for creating signs and wall art. they come in a variety of shapes and sizes so you could also create a collage.
CANDLES
The Dollar Tree candles can be easily personalized. You will need to remove the label on the jar but then you can add your own design with a Cricut Decal.
FLOWER POTS
In the late winter and early spring, you can find colorful flower pots! Add a Cricut decal with permanent vinyl.
VASES
Dollar Tree offers a variety of vases in different shapes and sizes. You can easily add a Cricut decal and some glitter.
STORAGE BINS
The Dollar always has a huge selection of storage bins and containers. They come in a variety of sizes and colors. You can use them for storage and label the bin or decorate a bin for a gift basket.
DOLLAR TREE SOCKS
Have you seen those socks with sayings on the bottom such as "If you can read this, bring me wine?" You can make them with Dollar Tree Socks!
CHRISTMAS ORNAMENTS
In the fall and early Winter, you can find Dollar Tree Christmas Ornaments. Then you can make your DIY GLITTER ORNAMENTS.
BEST CRICUT BLANKS FROM DOLLAR TREE
I hope this ultimate list of the Best Dollar Tree Cricut Blanks inspires you to head to your local Dollar Tree and buy some Cricut blanks.
If you don't have a local store, you can always shop at DollarTree.com. Most items have to purchase in bulk but some items do not have a bulk order requirements