If you are wondering if the Cricut Air 2 can cut Felt then the answer is YES! Cutting Felt with the Cricut is very easy to do. I am going to show you how to easily cut felt with a Cricut Air 2.
I heard from others that the Cricut Air 2 does not cut felt and I would need to upgrade to the Cricut Maker since the Cricut Maker was designed to cut fabric and felt. So if you have heard this too, YOU HEARD WRONG!
Cutting felt on a Cricut Air 2 was way easier than I expected.
My Cricut Air 2 works just fine so I didn't want to upgrade since I don't regularly use it to cut felt. So I figured I would give it a try and cut felt with the Cricut Air 2.
And guess what, it worked. I was able to easily cut felt with Cricut Air 2 AND without changing the blade.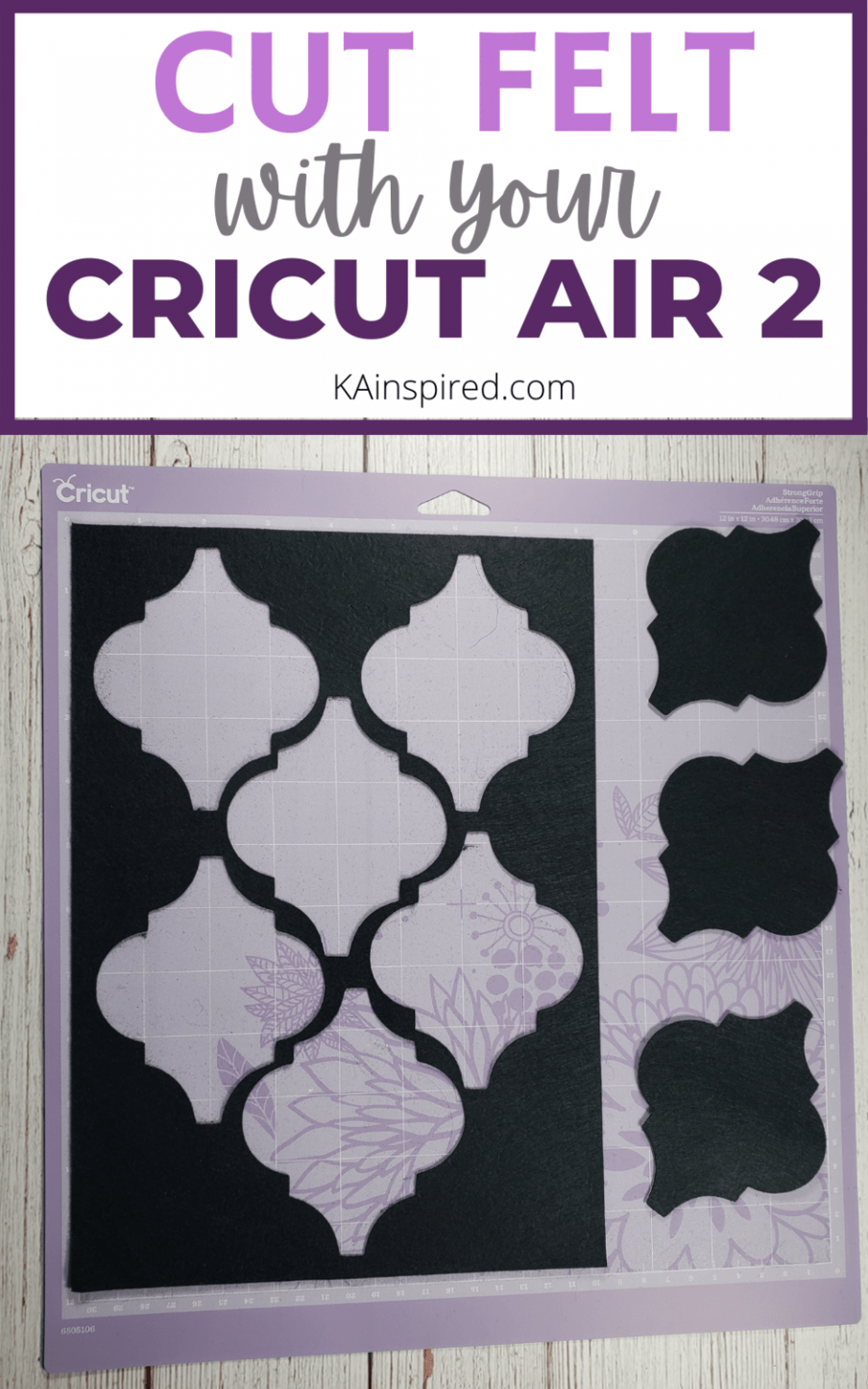 CUTTING FELT
I ordered Black felt on Amazon that I wanted to use for the back of my Christmas Tile Ornaments. The felt had a backing so I could easily stick it to my project after it was cut.
I had an SVG of the Tile that I used so I uploaded it to Cricut Design Space and sized it accordingly.
Learn more: HOW TO EASILY CLEAN UP IMAGES IN CRICUTDESIGN SPACE
I didn't have a fabric blade on hand so I used my regular blade. I made sure to clean the Blade before I started to cut the felt.
Going forward, I will use a fabric blade to cut felt just incase it does dull the blade- but know it is completely possible to cut felt with a regular Cricut blade.
I used the purple mat (strong mat) to cut the felt. I set the Cricut Air 2 to custom. I then used the Felt setting and set pressure to more. And I was able to cut Felt on my first try with the Cricut Air 2.
HOW TO CUT FELT WITH A CRICUT AIR 2
Find a design you want to cut and load it into Cricut Design Space
Size it accordingly before you cut it.
Hit Make it and you'll see your image on a mat. Click continue
Set the dial to Custom on your Cricut Air 2 and select the material you are using (search for felt) and select felt wool fabric. Then change the pressure to more.
Add the Felt to your purple Mat (strong mat) and load the mat into your Cricut. Then select the C button to start cutting.
Once the cut is done, unload the mat and pull your design off of the mat.
There you have have it, that's how to cut felt with a Cricut Air 2.
Leave a comment below and let know what your favorite thing is to do with the Cricut Air 2.
CUT FELT WITH A CRICUT AIR 2