A LIST OF THE BEST FREE CRICUT FONTS WITH TAILS AND EXTRA GLYPHS TO MAKE ALL YOUR TEXT CRICUT PROJECTS STAND OUT.
If you want your Cricut projects to really stand out, try using a Cricut Font that comes with tails and extra glyphs.
Adding tails and extra glyphs to the words of your Cricut Project will help to make your project unique.
And if you don't know how to add tails to text or how to find the extra glyphs or characters for fonts, no need to keep searching. You can learn how to add tails to text here. I have an easy how-to guide.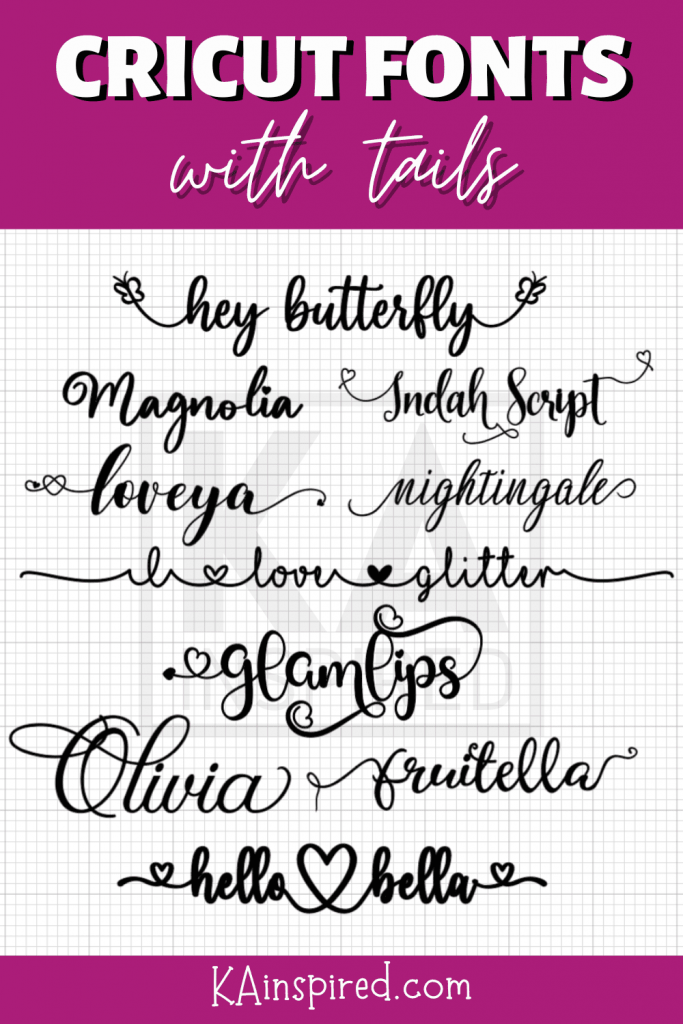 But finding the perfect Cricut font can be tricky.
And it can be even harder to find the perfect Cricut Fonts with tails and extra glyphs.
So lucky for you, I have put together a list of my favorite FREE Cricut Fonts with Tails and Extra Glyphs. That's right – this list of Cricut fonts are all free to download.
And you can follow my guide on how to upload fonts to Design Space.
Please note: you will need to check each font to see what license it comes with as many of them are for personal use only and not commercial use.
BEST CRICUT FONTS WITH TAILS
I LOVE GLITTER
I love Glitter font is probably one of the most popular Cricut Fonts out there.
It comes with cute tails and tails with hearts that pair well together when connecting 2 or more words and it's a great font to make knockout designs with.
Fruitella
Fruitella is another Free Cricut font that comes with a ton of extra glyphs!
It is a script font with a mix of modern and vintage style.
Indah Script
Indah Script is another beautiful handmade script font that pairs well with Cricut Projects.
It has a modern calligraphy style and lovely flow that is perfect for logos, branding, social media, weddings, and apparel.
Glamlips
Glamlips is a sweet modern calligraphy script that comes with many front and back swashes to help you create many different text designs.
Magnolia Script
Magnolia Script Font is another beautiful free Cricut Font with good flow and unique alternate font.
Olivia Script
Olivia Script Free will give your text an extraordinary and outstanding appearance. It has a youthful taste and an elegant flair.
And it comes with over 300 extra glyphs so you can truly customize the text!
hello bella
Hello bella is another lovely script font that comes with many swashes, glyphs, and tails.
It is the perfect Free Cricut Font with tails and glyphs that will make your Cricut projects attractive and stand out from others.
Loveya Script
Loveya Script is the perfect romantic script font with a modern calligraphy feel.
It also comes with plenty of extras characters!
hey butterfly
Hey Butterfly is another delightful script font with a sweet and smooth flow.
This font is equipped with a complete set of beautiful butterfly swashes to add to the beginning and end of your text.
Nightingale
Nightingale is a hand-drawn script font with a calligraphic flair.
It comes with many trials, glyphs, and swashes to dress up your favorite Cricut Projects.
FREE CRICUT FONTS WITH TAILS AND EXTRA GLYPHS