This Dollar Tree Wagon is the perfect craft to make to display your favorite seasonal decor.
And the best part? This Dollar Tree Wagon only cost $3!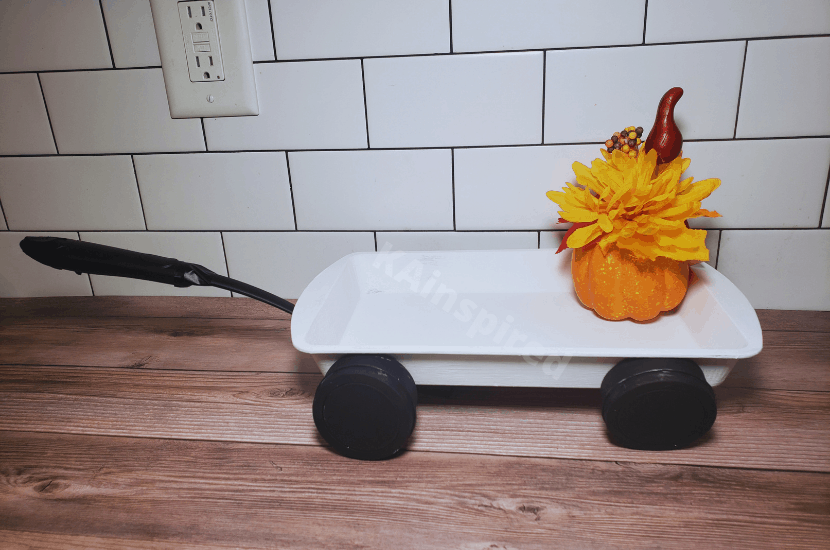 So there is no need to splurge on those expensive wagon decorations at Home Goods.
You can make your farmhouse wagon decoration on a budget with Dollar Tree Supplies.
It's the perfect way to decorate for the holidays. And it only requires a couple of items to make this brownie pan wagon. You can decorate the outside with your favorite decals.
Fill the handmade wagon with your favorite small decoration items. Display the Dollar Tree Wagon throughout your home – living room, kitchen, dining room, foyer, etc.
I painted my Dollar Tree Wagon white to match my home decor and to make it easy to use for different holidays.
But you can paint your brownie pan wagon any color you want!
If you love the classic flyer red wagon, then paint your wagon red.
HOW TO MAKE DOLLAR TREE WAGON
It is very easy to make the Dollar Tree Brownie Pan Wagon. The brownie pan will be the wagon, the tins will be the wheels, and the Spatula will be the wagon handle.
MAterials
DIRECTIONS
1 – First you will want to paint the Brownie pan white and the tins black.
2- Next take some E6000 glue and glue the tins to the brownie pan to make two wagon wheels on each side of the brown pan.
3- Then take the spatula and apply some E600 glue to the flat blade and glue to the bottom of the brownie pan. Hold it in place until it fully dries.
If you want to spruce up the handle, you can wrap it with some twine.
4- Time to Decorate! You can add some personalized vinyl decals to the sides of the wagon. Then fill your wagon with your favorite seasonal decor.
And that's it! It is so easy to make this brownie pan Dollar Tree Wagon.
DIY HOLIDAY DECOR
If you love to decorate for the holidays and love to make crafts, this Dollar Tree Wagon is the perfect holiday craft to decorate your home.
You can use the wagon to decorate your home all year long. Just change out the items every season and holiday to match the current season.
During the fall, fill it with pumpkins, flowers, and leaves.
In the winter, fill the wagon decoration with some pine cones and red flowers.
It is such a fun and easy DIY HOLIDAY DECOR that you can make on a budget.
It cost me less than $3 to make because I had the paint and glue already on hand. And I think this is one of my favorite Dollar Tree Crafts yet.
Want to make more DIY DOLLAR TREE CRAFTS? Check out these Dollar Tree Projects:
DOLLAR TREE WAGON