If you have a Cricut Machine then you might be wondering if you can use it to make money. And the answer is yes! The best part of selling your crafts, you can make Cricut Projects to sell from home.
So you can turn your Cricut into a nice little side hustle.
And lucky for you, there are a ton of different Cricut Projects to make and sell. I'm going to list out 40 of my favorite Cricut Projects to sell to make extra money.
Because let's face it, everyone could use some extra money. So if you already own a Cricut and know how to use it, you can make Cricut Projects to sell from home.
I actually have a few avenues that bring in extra money but one of my favorite ways to make extra cash is with my Cricut.
But keep in mind, during the pandemic a lot of people invested in a Cricut. So the Cricut projects you can make and sell may seem a little saturated in the market. So you will want to find your niche and something you enjoy making. Make it stand out so it's not like everything else you see posted on Etsy.
If you don't have a Cricut and you want to be crafty, then definitely get a Cricut Machine! Cricut recently released two new machines, the Cricut 3 and Cricut Maker 3.
There's a lot of ways you can use the Cricut to make extra money. But first you'll need to make the initial investment and learn how to use the machine. Then figure out what you like to make.
You can join this Facebook Group Cricut Projects for inspiration and learn from others who make Cricut projects. Once you have mastered some Cricut Crafts, see if there is a market for them so you can sell them.
WHERE TO SELL CRICUT PROJECTS
Here are couple of places you can sell Cricut Projects:
Facebook Marketplace
Etsy
eBay
Facebook Page and/or group
Craft Fairs
Local boutiques
Farmer's Market
Word of Mouth
Your Own Website
CRICUT CRAFTS TO MAKE AND SELL
Here are 40 of my favorite Cricut Projects to sell:
REVERSE CANVAS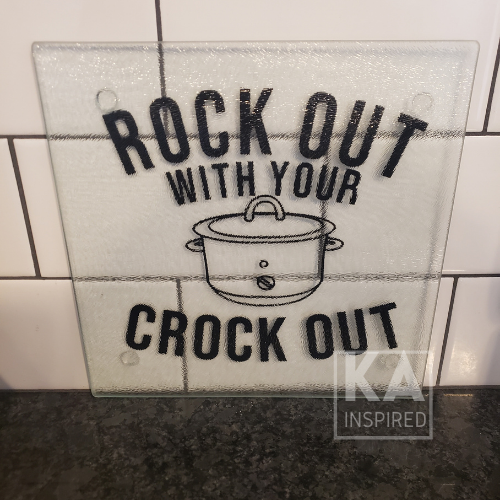 PERSONALIZED SERVING TRAYS
Here are more Cricut Projects to make and sell:
FARMHOUSE SIGNS
COFFEE MUGS
WOODEN SIGNS
WATER BOTTLES
MONOGRAMMED RING DISHES
COASTERS
CHRISTMAS SANTA SACKS
CAR STICKERS AND DECALS
ETCHED GLASSES
BEER MUGS
LABELS
BANNERS
KEYCHAINS
LEATHER EARRINGS
CARDS
PAPER FLOWERS
HATS
WALL ART VINYL
SCRABBLE LETTER SIGNS
BATHROOM SIGNS
COASTERS
SELLING CRAFTS ONLINE
Once you decide on what Cricut Projects to sell, you'll need to figure out how much to sell them for.
To figure out your selling price, you'll need to know your costs and factor in your time to make the items. If you plan on shipping items, make sure you factor in your shipping costs and shipping packaging.
You can always charge for shipping, but make sure you factor in the shipping packaging into your selling price.
Or you can sell locally to avoid shipping.
If you decide to sell locally, online, or both, here are a few things to help you get started with selling Cricut Projects online.
Choose a platform to sell your Cricut Project on. It can be things like Etsy, eBay, Facebook marketplace or a personal website.
Take photos of your Cricut Projects to sell. Use well-lit photos with a clean background. Don't use other people's photos as that is copyright infringement and will cause problems.
Use Keywords and well written descriptions. List all the details, measurements, and materials.
Choose how to accept Payments. This will depend on the platform you will sell on but you may need a Paypal account.
How to deliver the Goods. Will you ship, meet locally, or require pickup.
CRICUT PROJECTS TO SELL